Yesterday my son Alec started on Accutane.
His acne has gotten quite bad over the past six months or so. Over the past summer he started out having such bad blackheads it was like somebody sprinkled pepper on his face. We tried some OTC medication and facials, but that didn't do the trick. Since then, the full on acne has blossomed and it's been a nightmare. He has it on his face, chest, and back.
I tried a product called Lerosett and that did nothing. The dermatologist put him on Doxycycline and that did nothing as well. In fact, he developed a few cysts that were so alarming to me I sent the doctor photos and he told me to come in that very day. We made the decision then to go on the Accutane.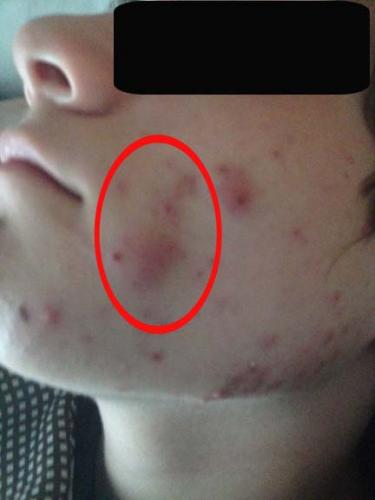 I was quite reluctant. I read all the side effects and the idea of allowing my 13-year old to take such intense medication was really horrifying. But what about not going on it? He has started not wanting to go out because of his acne. I feel like I owe it to him to try and here we are.
After some issues with getting the product at the pharmacy, we wound up on 20mg of Claravis. The 30mg that was originally prescribed was going to cost me over $500. The 20mg was $210 and the doctor said it was okay to start him on this. Luckily, in one shot I met me pharmaceutical deductible for the entire year and it should only cost me $10 a month from now on.
So here we are at Day One.