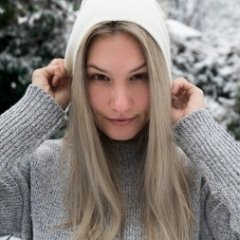 So I've been off my Clarisonic for..this is probably my 5th day. At first, like I said, it seemed to be a good thing. However, I am going through a pretty bad breakout right now but I have no idea if it's from the Clarisonic or not. I have four pimples on my forehead (two new, two healing) and four on my right side all along my smile line. Then I have two clogged pores on the left side of my mouth. The new pimples that are forming are very small, yet irritating, and they are all RIGHT NEXT to the pimples I got the other week. I tried to keep my hands off, but perhaps I picked or scraped at dry skin. That'll often cause a second pimple right next door to the first. So I'm a bit frustrated right now.
I just finished putting my makeup on and I did notice one thing. My foundation is not as seamless and smooth as before. That must be because I've stopped the Clarisonic, which took away a form of exfoliation. I'm not happy about that so I'm thinking of ways to get good exfoliation back into my routine.
I like my glycolic acid night cream well enough and I don't want to give up on it yet, not since it's been two months and I've nearly completed a jar. I'll continue using that but I don't feel it's strong enough for my skin. My skin handles chemical exfoliation like a champ. I'm not afraid to get a little rough with it.
So I was thinking I'll continue with my normal makeup remover then, instead of the clarisonic, I'll use my 15% Salicylic Acid cleanser that I love so much. However, I'm going to use it as a face mask. I've done this before with excellent results. Every other night perhaps? I don't want to over do it. One thing I HATE is flaky, dry skin.
Another note, I just realized I can actually slightly feel my foundation on my face today. Like it's actually sitting on top of my skin instead of melting into it like usual. I definitely need more exfoliation.