When I was in high school, I had the normal breakouts. Nothing major. Here and there it would get a little more severe, but nothing that would really make me feel terrible and stressed out about hiding them. Occasionally I used a little makeup here and there, and that was fine.
In my 20's, my skin became very clear. I've always taken good care of it, have been eating healthy since my 20's and drinking plenty of water. There were at least 2 years that went by that I didn't even have to worry about having concealer/foundation in my home or when traveling, because I simply didn't need it. I did take note of this and was very thankful for it.
Unfortunately this didn't last very long. A few years maybe. Then when I began to approach 30 years old, (around age 28) it started to come back - this time in the form of deep, painful bumps. I'd get a couple in the cheek area every month - I usually had at least a couple of them at any given time. I was no longer free of using makeup and began to buy concealer again. I am a part-time model and actress, so being able to have clear-looking skin is very important.
It was annoying, but again nothing that made me feel awful about myself - I just wished that it didn't happen and went about my life. In 2011 when I was 30 years old, I began working for a health spa. During this time I consulted with the estheticians there. They advised me to start using Obagi products to help with the breakouts - which they had determined were hormonal, because of the pattern in which they always showed up. I rarely get acne anywhere else on my face, and never on my body -- just in the hormonal pattern on the checks (and, a couple of times recently, much to my horror, on my neck). They are VERY long-lasting, sometimes taking up to 2 months to entirely disappear. I worry constantly about scarring.
I started using the products daily, which included a face wash and a saylic (sp?) acid cream. The cream did sometimes help the breakouts go away faster, at that time. I stopped working for the spa about a year later, and hadn't had another appointment with a skincare professional until yesterday.
Here we are, 2 years later, at 32 years old, and my breakouts are the worst they've ever been in my life. It has severely affected my self-esteem and confidence. The breakouts now are usually very painful as well, because they are so deep. The products do absolutely nothing to help now and I am at my wits' end. It has made me very depressed. I am very self-conscious in general now, but especially around my new partner - whom I just met 2 months ago. I cake on the concealer when we go on a date, and spending the night together puts a lot of stress on me because I'm constantly worried about my face. I have to carry the makeup with me and reapply it every few hours, and I often hiding the worse side of my face against the pillow so that he sees the "better" side. I know that he likes me for me and all that, but it doesn't make me feel any less self conscious about the massive breakouts that are always present.
It's been plaguing me every day. I noticed that even with the best quality makeup on professional film sets, the bumps are so large that they aren't always concealable, no matter what is done to them. I saw the finished product of a film I was in and all I could see were the visible bumps on my face - even though they weren't red because of the makeup, they were clearly pimples... immortalized forever on the big screen. Lovely. Same thing with photos - a good photographer will photoshop the blemishes out, but not everyone who snaps a photograph knows how to do that - so during fashion shows, not much can be done, and the photos go out as is sometimes. It is very stressful coming across some of these photos and seeing the other models who have flawless skin, while my red acne is showing even through the makeup sometimes.
When the first thing you do immediately upon waking is put your hand to your face and think "crater face"... it's time to take more serious action. This phrase has been going through my subconscious for weeks now. It's terrible, and no way to go through life.
I took these photos in bright sunlight, so the bumps are actually more red and a little more severe than they appear here.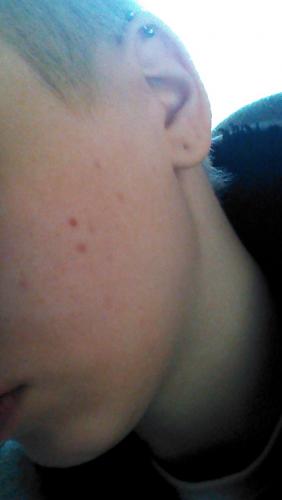 Left side of face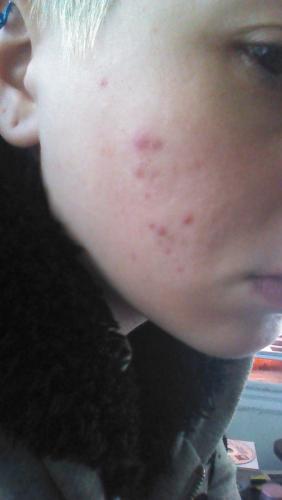 Right side of face (usually the more severe side) - the one at the middle/top is new over the last couple of days, and is very sore to the touch.
I met with my new dermatologist yesterday, and she immediately told me that topical creams don't, and will not work because of how deep and inflamed the bumps are. She gave me a perscription for doxycycline, which I started today (2 doses per day at 100mg each) and also told me about Accutane as an option to try if this doesn't help.
That is how I found this website - I was looking for people's experiences with Accutane and found a blog here. I've been wanting to document this process anyway, and this appears to be a good place to do so. At the moment, Accutane does sound very appealing, because even though it's a long commitment with some risky side effects, apparently the results can last forever. Imagine never having to worry about this again? I'd like that very much. I am also not sure if the acne would come back if I wanted to stop the doxycycline, because I do not like the idea of being on pills for a very long time. The only pill I have ever taken for more than a year has been my birth control. I do not really feel comfortable putting chemicals in my body over extended periods of time otherwise. (Even the pill I have gone off a few times, but after speaking with my doctor about it at length, I feel comfortable that it is not doing any long-term damage to my system because I am very healthy, don't smoke, etc)
Of course I'd have to be very careful with sexual intercourse for 6 months, that's the only concern I'd really have, as the side effects don't appear to be anything too awful usually, so there's that to take into consideration, but that's easily remedied.
So, the plan of action is to see how I respond to the doxycycline, and come back for a follow up in 2 months, which is already scheduled for Jan 20th. I hope it helps at least a little - but at this point I'm sort of leaning towards the Accutane, regardless. I do have a lot more research to do on it, though, so we'll see.
**As a side note, I also started taking collagen supplements at the beginning of November 2013. It's been 3 weeks, not seeing much difference yet in skin around the eyes, which is why I started taking it. We'll see with that too!