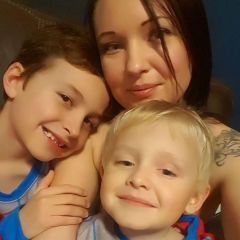 Well here we go..
I've been on acne.org for a while now. It's my go to for product reviews and to read about others struggles with their skin. I decided it's time to stop being an anonymous lurker, and do something therapeutic for myself and blog about my feelings. So here we go..
Like most people with acne, mild to severe, I obsess about my skin. I've had moderate to severe acne for almost 12 years. When I was in middle school and high school I kept telling myself that I would outgrow it. But I'm 24 now, married, and have a 2 yo son, and my acne is just has bad as it always has been. I no longer have hope that I will age out of this. Unfortuntly it's who I am. And sometimes, acne is all I think I am, it's all I see. It's caused depression, anxiety, and an aversion to social activities. Something as small as going to the store for a gallon of milk requires a full 15 minutes of applying make up in attempts to cover up the red splotches and bumps that cover my face. And I still look bad. The bumps, combined with my oily skin, and the amount of make up I have to apply just makes me look cakey and bumpy. But hey, at least the redness isn't 100% visible. When someone comes by unexpectedly, like the mail man, or a friend and I don't have my make up on yet, my heart drops to the very bottom of my stomach and I want to hide.
I never wanted to attend sleep covers because of my skin. The 1 week long Washington DC trip in 8th grade was traumatic for me. And when a mean girl took photos of me, of my skin, while I was asleep I very literally wanted to die. I'd be lying if I said my skin didn't play a role yin my cutting addiction in middle school and high school.
I met my husband when we were 15 and now until I was 19 and we had been living together for a year had he ever seen me without foundation. He has by far been my biggest supporter when it comes to my face. He never makes me feel insecure. But sometimes he complains when I refuse to leave the house because of the acne. Which is understandable, I mean I get it. I know he is able to look past my acne. But for the rest of the world that's all their going to see, and they will stare. And it hurts. I feel like as a female there is a certain pressure to look perfect. And the fact that I can not even achieve my own personal form of perfect is hard. It sucks to be so shallow when you have such shitty fucking skin.
I have literally tried everything I can get my hands on for my acne. Every kit, every lotion, every holistic hippie home remedy approach (which is how I found out I'm allergic to honey) I have tried it. If you can get your hands on it without a preacription you can bet your ass I've tried. I've spent all the money, convinced myself that 'this will finally be the one!' Only to watch it fail and wind up back a square one.
In a little over 2 weeks I have my first dermatologist appointment in 10 years. And truth be told, I'm not even optimistic. I'm certain the two things I will not do are probably the only things that might help my skin. Birth control and accutane. I already have anxiety and if we're being honest probably mild depression. I've been on 5 different birth controls and the hormones just make me crazy and even more unhappy and angry. Not to mention that part of my anxiety involves a chronic fear of pulmonary embolism, which the risk of is higher with birth control usage. And given my current mental instability accutane scares the shit out of me. And the possibility of suicidal actions is not worth clear skin. Especially when I think of my son. Even though I would do damn near everything to cure my acne I still have to think about risks, and if it's really worth it. So I've pretty much deemed myself hopeless. But we will see what this doctor can do. He was scheduled out 2 months in advance so maybe that's a sign that he's good. Or maybe it's because he's the only derm in my town that accepts Medicaid. Probably the latter.
Vent over. On to the documentation of my skin and hopefully this will turn into progress posts.
Currently I'm using the Cetaphil antibacterial bar morning and night. And several times a week I use the Olay regenerist scrub. I was using the Body Shop's tea tree moisturizer but I don't like it and I'm on the search for a new moisturizer. So no moisturizers are being used at the moment. For a short while I was using the para10 gel and it helped amazingly at first. But now or does nothing my dry me out to extreme proportions. My skin is still recovering from the flakey mess it made me. I was using Kat Von D Lock it foundation but I think it actually breaks me out so I'm using Cover girl 3 in 1 in the mean time until I find something else. I used BE for the longest time but it cakes so bad once my natural oils surface. I've also used clinique, MUFE, Revlon colorstay, and Neutrogena for acne foundation. None of which I loved. Next on my list is Jane Iredale amazing base as I'd like to try a mineral powder again. I like to stay primer free but on days where I'm not able to retouch my make up I like to use milk of magnesia. It works well, but it's drying so I can't use it daily.