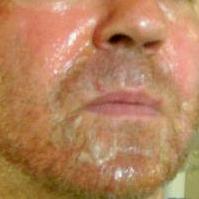 DAY ONE
Last night, I decided to do my fourth 25% TCA peel.
When I looked at the bottle, there wasn't a whole lot of TCA left and I was concerned that I would not have enough to even cover my face one time.
I decided against using a cotton pad to apply the peel as pads absorb too much of the peel.
So, I decided to use a rubber glove to apply the peel to my face
Before I started the peel, I washed my face and then used a cotton pad soak in alcohol to remove any traces of oil, soap, or other residue. I've learned that removing any residue off of your face after washing it is critical to a good peel.
I put on a pair of swimming goggles to shield my eyes and applied Aquaphor to my lips to protect them as well.
I applied one coat and let it sit for a few minutes until it turned 'white'. All in all, I ended up adding five layers of TCA to my face.
As you can imagine, it burned like crazy and my face turned extremely WHITE. It burned so much that my eyes were watering......
I woke a couple of times in the night as my face was sore, but the pain was not that bad.
DAY TWO
My face look as if it is slightly sunburned and appears some what 'brownish'.
I can feel that my skin is just beginning to tighten a little bit. This is a good sign and I would imagine that my skin will continue to turn browner and tighter over the next 48 hours as it prepares to peel.