Okay so this is me.
I came off my second course of accutane in May 2012.
My skin was perfect (my hair was ruined)
THIS IS ME EIGHT MONTHS AFTER COMING OFF ACCUTANE.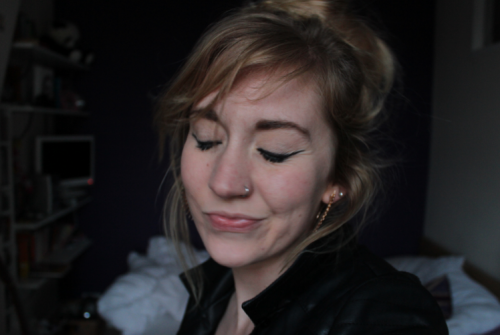 LOOK AT HOW HAPPY I AM.
This is me NOW (1 year 5 months after accutane)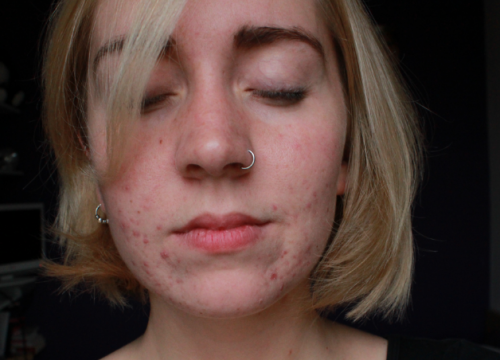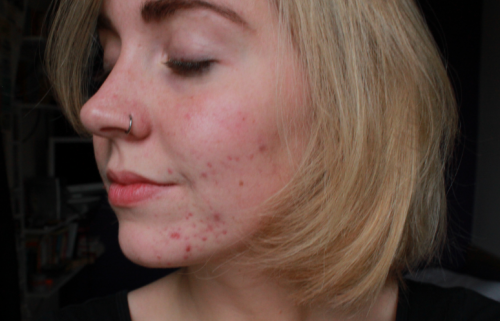 This is the worst side...one side always gets worse than the other.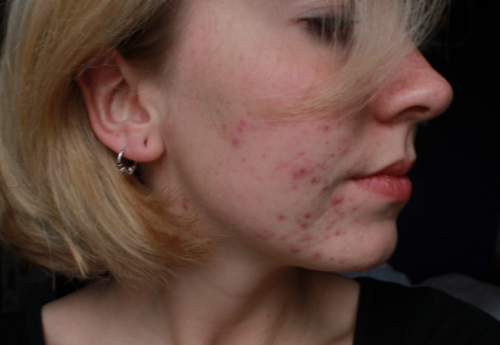 as you can see accutane DOES work but only for a limited amount of time. It doesn't do the job forever. I made no changes to my diet or lifestyle. My periods have always been irregular. I was diagnosed with P.C.O.S in March when my skin was still clear.
I don't know how or why I started breaking out so bad...all I know is that my skin was pretty much perfect right up until August this year (2013). Then I had a late T.O.M (Time of Month) waiting around seven weeks for me to come on..I was breaking out worse and worse then I came on and had a horrific t.o.m..anyway I havn't stopped breaking out since. I went on Metformin when I was late around early september because I had broken out the worse I've ever broken out since I started my second course of accutane..anyway I'm sure that was making me break out worse and it was also making me so so so lethargic, tired and thirsty I couldn't drink enough water and I drink a lot of water anyway but I could drink like three whole glasses one after the other and still be thirsty. was also craving carbs like no tomorrow and I'm usually a pretty active gym going salad eating kinda girl (PROOF that acne is not really caused by diet).
anyway after a month I decided to come off metformin....I'm not a fan of how doctors prescribe things to you....I'll go into all that later.
Since I came off Metformin I've had NO new breakouts..but no period either. I'm trying to STOP myself breaking out badly again, plus improve my skin in general.
So now...here is what I'm taking.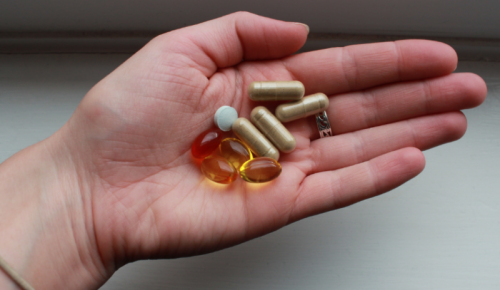 1. AGNUS CASTUS
Agnus castuc (or chasteberry root) is supposed to have an effect on your Luitenising hormone, causing it to secrete the correct amount of eostrogen and progesterone and therefore regulate your periods. This, in turn, can improve your hormonal acne. As I don't tend to break out when my periods are regular, this is why I am taking this. I take two in the morning and two at night (they are the long slim capsules of four in my hand)
2. SAW PALMETTO
Saw palmetto STINKS omg don't smell the bottle of capsules! ew! That is the dark amber softgel capsule in my hand, I take one a day. Saw Palmetto has been dubbed the "natural alternative to spironolactone" as it stops your body from creating too many androgens which turn to testosterone, the hormone that causes acne. I have too much testosterone in my body (from blood test results taken out in January and February) so I am taking this to STOP all the excess testosterone.
I take one a day (320mg).
3. PRIMROSE OIL.
Thats the three light gold soft gel capsules in my hand. I take one in the morning with two agnus castus, one in the afternoon, and one at night. This is supposed to be good for acne. I'm not sure why. I just want to attack this sh!t from all angles.
4. ZINC.
Thats the one whitey grey little tablet in my palm. I take one a day. Zinc is just good for hair nails and skin. I just wanted to take this anyway.
Okay so that's everything i put INTO my body. I have a healthy diet lots of spinach, avocado, oily fish, chicken, fruit, wholemeal break, tomatoes etc. etc. I run and go to the gym three-four times a week. I am a member of adult ballet classes which I attend once a week.
I DO drink alcohol....maybe two-three times a week. Anyone who says I should quit is out of thier minds. People without acne don't have to punish them selves and give up small pleasures in life, so niether should I. I strongly believe that my acne is linked to hormones, and that is how I have to tackle it.
I WILL BE LOGGING MY PROGRESS FOR THREE MONTHS. If nothing is working then I will try something else. I will be doing my own research along the way.
I NEED YOUR ADVICE.
Am I taking too many remedies/suppliments?? My take on it is that I attack it was all angles...however I guess now I won't know which is having an effect and which isn't because I am taking so many things at once.