Roaccutane/accutane Treatment: Week Five
---
ONE MONTH AND ONE DAY. Officially into the second month.
So at the moment, I'm still on 60mg a day, and sometime this week I'll be getting the script to go up to another 10mg.
Not much has changed, except I'M FREAKING BREAKING OUT AGAIN. Ugh!! Every day I wake up with a massive pimple on my cheek, and it's always the same bloody cheek as well. I'm not really letting it bother me because I literally do not care about what my skin is going to look like from now on. Well, while I'm on this treatment at least.
My lips are super super dry, but the rest of my skin isn't too bad. My arms and shoulders are starting to feel pretty dry, but no major issue there. I didn't put enough sunscreen on today while I was gardening, and despite my massive sunglasses and hat, I still got ridiculously sun burnt.
My body acne is starting to go. I mean, of course now that I've said that it'll start flaring up and my whole body will be one big zit. No, it's getting there. Slowly, but surely. I forced myself to try on a singlet yesterday (something I haven't done for about 3 years, so it was a major deal) and even though I'm as white as a baby's ass, I didn't feel too bad about it.
Shitty phone quality AGAIN. Sorry about that.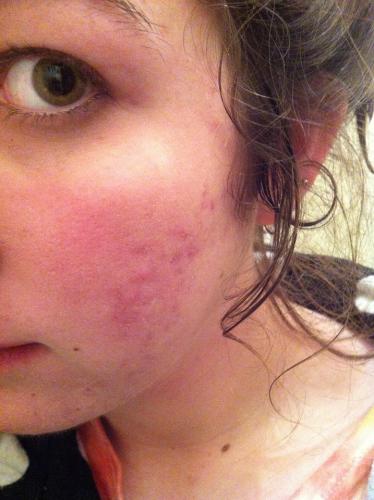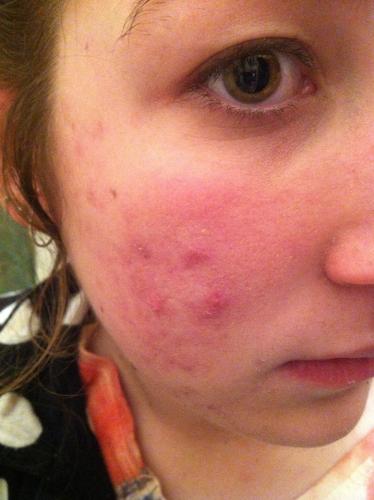 I swear, if I start breaking out again when I get bumped up again, I'm going to HOUGIJOKFWHGJLFWFQ.
Anyways, see you next week.