End Of Month 1, No Change In Dosage?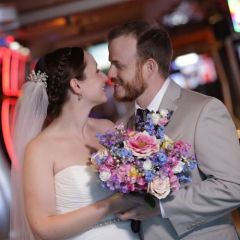 Just had my appointment with the doctor. He did not increase my dosage. Is this normal to not increase the dosage after the first month? I am staying on 70 mg a day. I had a blowup about a week and a half ago. I had about four or five big large pimples on my face that were very painful. They have gone down now and my face is about back where it was when I originally started Accutane. The doctor said my face should get better from here I should not see any more pimples come on my face at this point. The symptoms have been about the same, dry hair dry skin and I had my first bloody nose ever on the medicine today. My allergy medicine also dries out my nose so that could be part of the reason I have a bloody nose today. If I do not put Aquaphor on my lips at least twice an hour my lips literally peel off in one chunk. It's really gross!!
Any thoughts as to why my doctor did not increase my dosage? Will I still see improvement on the same dosage for the next month? I really want to do this the right way the first time so that I do not have to repeat the Accutane like I have heard many people have had too.
I am an open book so if anybody has any questions about something that I did not address please do not hesitate to send me a private message or even just comment on this blog here so that other people may benefit from my answers.