Roaccutane/accutane Treatment: Week Two
---
Do you remember that course on Mario Kart called "Wario Stadium" where all throughout the track, you were faced with massive bumps to ride over? Well that's my face. Not only are there bumps everywhere, but if they were just the slightest bit bigger, I swear a car actually could drive over them.
So week two on Oratane/Roaccutane. Probably one of the hardest weeks with my skin I've had to face in a long time. I'm guessing week three with be much of the same. In my last post, I asked whether people thought I had gone through the initial breakout. WELL I HADN'T. Not even remotely close. At this very moment, I am at the peak of my breakout. I have big, painful pimples all over my cheeks, and I woke up with 3 new ones on my forehead today. My body acne is kind of meh. It's not increasing, but it's not decreasing. I've been getting pimples in really weird spots though. At the moment, the prime target areas seem to be inside the ears. Yeah, I don't know.
My skin hasn't looked so awful in months. I don't think it would've been as bad as it is, if I hadn't contributed to it myself. You see, I did the 40 hour famine over the weekend just passed. 40 hours without food, and can only drink water. I am also in the middle of exams right now, so I've been super stressed out about it. I also left my make-up on one night, so I'm sure that didn't help either.
The side effects suck. My lips are so dry, and when I say that, I honestly mean that I have to apply lip balm every 10-15 minutes. I'm using a special dermatologist approved lip balm for severely dry and chapped lips, but even that can't control it. Paw Paw works quite well during those few minutes, but you know, they're just dry lips, I'll survive. My skin isn't actually THAT dry. Obviously it is when I don't put lotion on, but it's not as bad as it initially was. I'm using Natralia Nourish Naturals wash and lotion, and they must be some kind of miracle creams, because they make your skin feel so good.
Over the last few nights, I inhabited a new side-effect: I cannot sleep at night! It's great because I'm in the middle of exams, and who needs sleep, right? No, but seriously, it's driving me nuts. Over the last 3 nights, I don't think I've had more than 7 hours sleep. I'm exhausted, yet my body just refuses to sleep. Hopefully this side effect stops because that's the last thing I need.
In my last post, I said I was experiencing excessive hairiness. Not really anymore, but I am still very, very sensitive to the sun.
I've also noticed that my hair doesn't get as greasy as fast anymore, which is a bonus. After a few hours my hair used to look like I've dipped it in a deep fryer. Hopefully it stays like this, or even better, gets rid of my greasy hair all together.
So, these are the pictures I took last night. Brace yourselves.
These pictures do not do any justice to how bad my skin really is.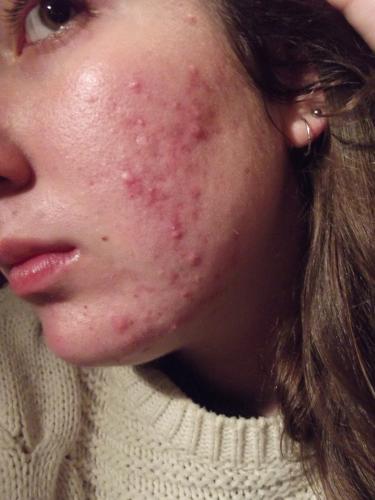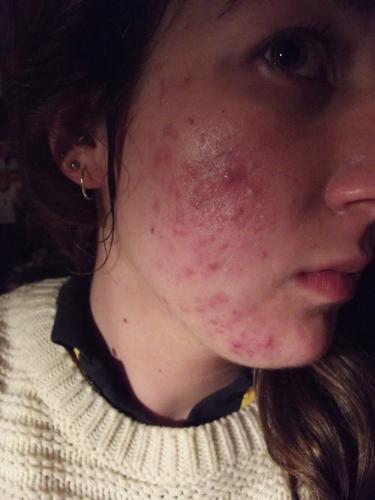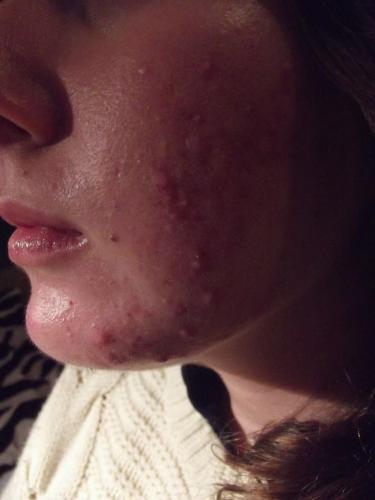 Anyway, see your next week.