Roaccutane/accutane Treatment: Week One
---
So, first week of Accutane (Or in my case, Oratane) accomplished. ONLY 5 MONTHS AND 3 WEEKS TO GO NOW.
Anyway, in my last blog post, I was on a low dosage of medication, waiting for my blood test results to come in. I got them a few days after posting that, and all was clear, so on Monday, I started Accutane. I'm currently taking 40mg a day, and I'm on it for the predicted 6 months, like most people are.
It's been okay so far. It took a couple of days for the side effects to kick in, but when they did kick in, IT HAPPENED ALL IN ONE GO.
First of all, it started as dry lips, and I was like, "Yay, that means it's working!" so I didn't let that bother me. Then my skin dried out REALLY REALLY FAST, and I felt like a damn crocodile. I'm using some dry skin lotion and a dry skin wash once a day to keep it under control. It was really awkward though, because my skin was peeling right between my eyebrows, and it looked like a had a nasty ass flake unibrow.
The next side effect was the nosebleed. Only one, and it didn't last very long. I haven't had another one for a few days, so hopefully that lasts out a bit. Then the next one was excessive hairiness, and it is not attractive! It's like I have light fur all over my face and neck, which I never had before. I feel like a damn Chewbacca. You'll probably be able to see it in the photos I'm about to post.
The last side effect is how sensitive I am to the sun now. I forgot to wear sunscreen yesterday, and now I look like a raging beetroot. I was outside for 10 minutes, for gods sake! But yeah, lesson well learnt.
So everyday on my calendar, I write down how bad my acne is: 1-10. 1 being fully clear (apart from scars) and 10 being a total pizza face. Mid-week, I was an 8.5, which was when I thought I was going through the initial breakout. I still don't know whether it has happened all night, so any opinions would be appreciated. Today, I rated it a 7.5. My face doesn't feel as lumpy today, but my god, my back, neck and chest acne is going OUT OF CONTROL. It is disgusting! The whole back of my neck is covered in them, and so is my chest. Not fun. But hopefully it's going to pass.
I switched cameras, so now we can see my acne in HD. Yay!
So this was what I thought was the "initial breakout"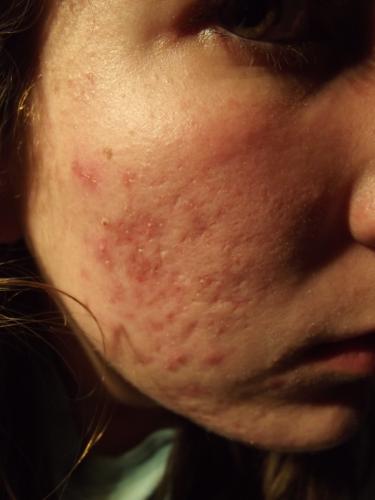 (Look at my furry face and chapped lips! Haha!)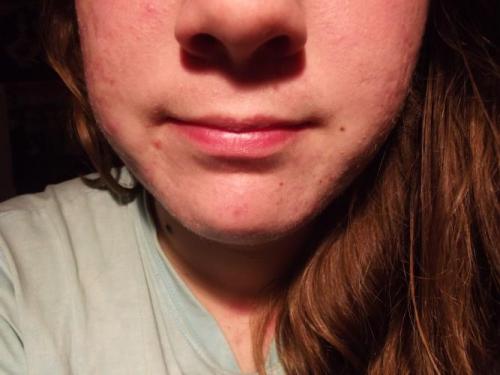 (The redness didn't show up as much in this photo.)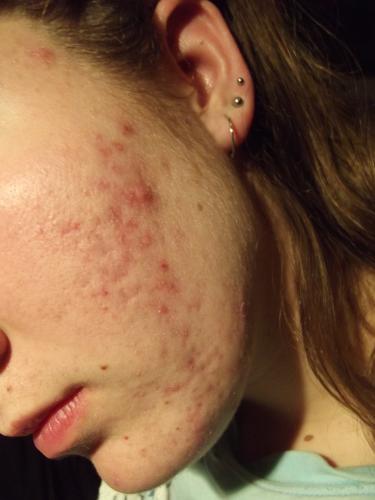 These were taking today, a few hours ago when I got out the shower.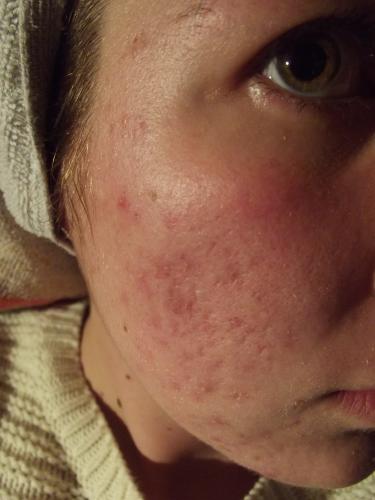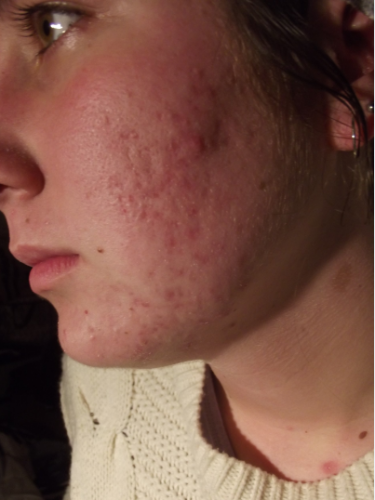 So what do you think? Does that look like the initial breakout?
Leave me a comment.
See you next week!