My Claravis (Accutane) 40 Mg Journal Day 1-7
Entry posted by mochi12 ·
2179 views
Hello I am a 20ish y/o female journaling my experience with Claravis the generic of accutane. I am 117 lbs. I never had acne in HS or as a young teen. I started breaking out in college around the age of 18 but just a few pimples. I started the "Regimen" with Bp and it helped clear my skin up very well however after a few years I started to get a weird flushing of the skin and wrinkles around my face. I continued the BP but soon I started to get cysts underneath my skin. Just a few at first so I decided to stop BP and boy that was a bad idea. My face got so bad with all kinds of acne on my skin including the very bad cystic nodules and it covered my whole face and was now on my neck. I became severely depressed I did not want to go out. I remember smiling or sleeping my cysts will burst (sorry for gross content) and my face would leak. I had like 20 cysts on my face. Well I went to see a doctor and found out I was suffering from many serious health issues (I was allergice to everything) however they weren't sure if it was connected to my breakouts. I have now resolved my serious health issues and my skin is no longer breaking out in cystic acne however I still get around 2-7 active small pimples and it makes me so annoyed waiting for it to stop breaking out but every morning I wake up to a new pimple. I would say since resolving my serious health issue my acne has improved 60% thank goodness for not getting cystic acne anymore. Acne in any form is terrible. So I decided I don't want to use bp for my skin anymore bc it causes my skin to look older and redder. I went to a derm and they suggested I try accutane. I was worried at first because of all the side effects short and long term and especially my history of clinical depression. Well I am so tired of waiting for clear skin so I thought about it and researched it for months and decided to take the leap.
Well I took a bloodtest which is a breeze it is only one tiny tube. I also took a urine pregnancy test. Then I went on the ipledge program to answer some birth control questions then I was approved for getting Claravis 40 mg 1x daily.
Day 1: took my first pill with apple and peanut butter. My skin is somewhat combo of dry and oily on the face and very dry on the body. I did not notice any changes from the drug. I have about 5 little pimples on my skin the white head kind and lots of pores on my skin and cheeks. I have a lot of scarring from the breakout from a few months back so I look like I have a sunburn from the scars. Physically and mentally I feel the same.
Day 5: skin is itchy still the same amount of pimples and lips are a bit dry. I still have not had any other side effects.
Day 7: Skin is less oily but still combo. The pimples I have are drier and the white head is dry to where some of them kind of fall out if you scratch it off or pull it with a tweezer however some pimples are still under the skin but no initial breakout yet. face is more flushed looking. Skin is really itchy feels like I am breaking out all over however I am pleasantly suprised when I look in the mirror. Lips are more dry and require more lipbalm application. I feel more thirsty and hot to the touch at night. eyes are dry before tane but is even more dry now. I still somehow manage to wear contacts I feel like the next few days I will need to start wearing my glasses for the rest of the treatment. My upper arms are very dry and itchy now. I kinda feel and look like I have a sunburn. Have stopped using tea tree oil on my face bc it burns now. Well that's it. I'll try to update every week and add photos.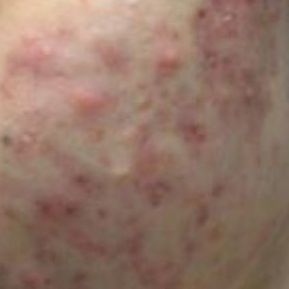 this is months ago when I had my bad breakout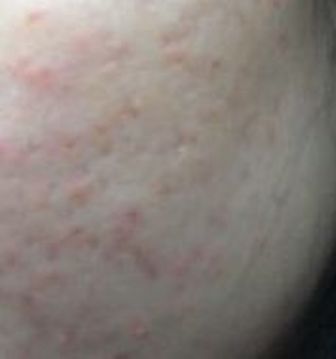 this was day 1 prior to taking my first claravis pill, as you can see it has gotten better but still needs that extra help from claravis.