The Beginning Of My Roaccutane/accutane Treatment
---
First posts are always the scariest. It's like the before to your after, you know? So I'm sure that most of you continually scroll past hundreds of posts saying "Day 1 of my acne treatment!" Well this is another one of those. Not so much for everyone to read, I mean you're welcome to read it, but mainly for myself as I plow through (hopefully what will be the last) of my acne treatment.
Okay. So first, I'll start with my past and acne. I am currently 15 years old, the prime teenage years. Most people at my school, they get a few pimples here and there. Mostly, I see clear faces all throughout the day, AND GOD DAMN AM I JEALOUS. My skin started when I was in year 6 (when I got to about 12 years old) and I broke out all along my T-line. Mainly on my forehead, and NEVER on my chin or cheeks. My mum just said, "Oh it's just puberty starting." which was all good. A little earlier than I hoped, but whatever.
Year 6, kind of got a little harder. My hormones were in full kick, and I had an on-going amount of pimples. I am about to tell you something, and I swear on my life this happened. One day I said to myself "Having pimples on my forehead sucks, but at least I don't get them on my cheeks." I kid you not, the next day I had breakouts all over my bloody chin, and all over my cheeks, I was well pissed off!
My forehead pimples started to disappear, but my cheeks and chin continued to turn into a nice big pizza resemblance. After a few months, my forehead was entirely clear (apart from the minimal scarring that I still have today) and my acne has started. I began piling on foundation, and just hoped that it would go away so I could stop wearing make-up.
I entered high school as a pizza. I, along with a lot of people in this situation, got bullied quite a lot. Year 8, was probably my hardest high school year (but this one is quickly becoming the worst). My skin was awful, and my self-esteem was spiraling downwards. By this stage, I had tried all of the store-bought skin treatments. Clearasil, Clean & Clear, Proactive, Nivea, Olay, you name it, I've tried it.
So as my skin continued to blossom, I kept picking. Now don't go telling me "It's so bad! Don't pick your pimples" because we ALL pick our pimples. Nobody wants to see a whole load of custard pimples (My slang for whiteheads) sitting on your face. My scarring had started all over my cheeks, and the acne was spreading all down my shoulders, back and neck. By summer time, all I could do was sit in long-t-shirts all day, with my hair fully covering my neck. I was getting teased so much at school. I refused to go on any excursion because I was so scared I would have to wear bathers.
My mum took me to the doctors, and I was put on some antibiotics (I can't remember the name.) After a few months of not seeing a change, I went back to the doctor. He prescribed me a different load of antibiotics, and a cream called 'Resoncinol.' It was very strong, and because I have sensitive skin, it literally burnt off my skin. My face was just layers of peeling, irritated skin. I had to stop after a few weeks because it was just getting too harsh to use.
As I went into Year 9, I completely gave up on my looks. I had no self esteem AT ALL. Most morning I would wake up, have a shower, leave my hair as it was, put on some foundation, and walked out the door with dripping wet hair, dry skin, a disgusting face and a body loaded with pimples. When summer came, I just stayed in jumpers. It was so hot, but that was the only thing I was comfortable in. I avoided going out, and by now my tan was absolutely disgusting and uneven. My back pimples were still there, and there was no way in hell that I was going to wear a singlet.
After 2012 finished I promised myself that I would get my skin sorted out in 2013, and that I would have no pimples by 2015. Which, I still stand for. At the start of the year, I went to a different doctor, and she prescribed me Duac. I was on it for a few months, and all it did was made my skin irritated, sore, and gave me about 2x more pimples than I originally had. When I went back, she told me, "No, no. Just keep going, it will work." I was really pissed off. Why would I keep going when I knew it was doing more harm than good. She said to me at the end of the appointment, "Also, don't wear make-up anymore because it will make it worse." I was so angry at that, I walked out and ripped up her stupid prescription for more Duac.
I didn't really do much for my pimples after that. I used Clean & Clear every day just to keep it clean, but other than that, it was slim to none. When I went to England in July, my skin spiraled out of control. It was RAGING. My self-esteem had never been worse. I felt disgusting and hideous. I was also going through a stage of being bullied online by people back at home due to some problems I had recently had with some friends, which made me feel even worse. I honestly just felt like total shit. One day on the holiday, I skyped my Mum and cried to her saying, "Mum, my skin is so bad. I can't handle it anymore." And she promised me that when I got home, we would sort it out.
A few weeks later, I found myself sitting in my old doctors office, begging him to help me. After being recommended Roaccutane by a load of different friends, I asked him about it. "Your skin is the type of skin that would respond really well to Roaccutane." I WAS SO EXCITED. FINALLY! "... But" he said, "You're going to have to fail one last round of antibiotics, so I can send you to the derm."
I was then prescribed Minocyline tablets, and Differin. I'm going to be honest, my skin was doing OKAY. It was gradually being brought back to how it was before I went to England. I had been taking two twice tablets a day, every day for two weeks. On my third week, I looked at the bottle and it said "TAKE TWO, TWICE A DAY FOR TWO WEEKS, THEN TWO ONCE A DAY FOR A WEEK." Shit, I was meant to be taking 4 a day! I told my Mum, and she said to just start taking four. I was taking four for a few days, then I started breaking out in a rash. A few hours later, and I was itching everywhere. I was out at a Uni open day, and all I could do was scratch and yelp like an injured dog. When I got home, I went for a shower (A hot shower -.-) and when I got out, it was about 3 times worse. I was screaming and scratching and it was just so bad. I hadn't touched, eaten or done anything different to what I usually did, and the only thing I could think of that would of caused it was the Minocyline. My mum went out an bought me some antihistamines later that night, so I was able to get to sleep without ripping my skin off.
The next day at school, I was in so much pain. My itching had started again, but worse. I was itching so much that I started bleeding all down my arms and legs. My neck was as red as a tomato. My teacher sent me home, and I dosed up on some antihistamines. Two days later, I went to see my derm. He said the allergic reaction would of ended, and he said that I should go on Roaccutane.
Wow, I almost forgot. MINOCYLINE MADE ME DEPRESSED. No, it's not one of the side effects, but I have never felt so crappy in my life. Every morning after I would take them, I would turn into a complete bitch. Night pills were the worst. I suffer from anger management issues, and when I took Mino at night, it would make me majorly aggressive, and super super depressed. The few days that I was off Mino (when I had formed the rash) I had felt so much better, and was back to laughing and feeling happy. It is not mentioned as a side-affect, so just beware of that if you're planning to go on Minocyline.
Anyway, it has been 6 days since I went to the dermatologist, and I am on a small dosage of Oratane (practically the home-brand version of Roaccutane. Same active ingredients, yadda yadda yadda) and using dry skin face wash and lotion. If my blood tests are clear, I will be moved up onto a higher dosage.
I hope it is the "miracle" drug that everyone said it is. I am ready for the side-effects, and I am so prepared for the upcoming months. My lips have begun to dry out, so hopefully that means it's starting to kick in. But honestly, I don't know if I have it in me to go another 5 years or more with acne. I just need it gone, and this is my last option. Acne has been getting me down for my whole teen years, and I can't stand it anymore.
These are the shots I took before I started Oratane.
(The pictures don't really show how bad the scarring and redness really is.)
Obviously, I look like crap in these photos, but oh well. That's the point, I guess?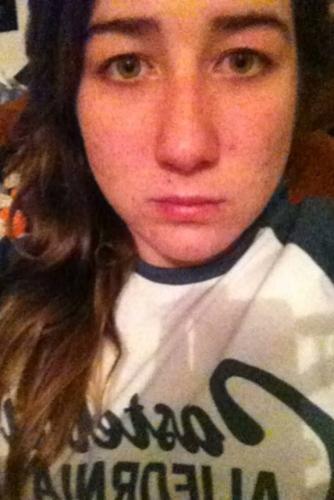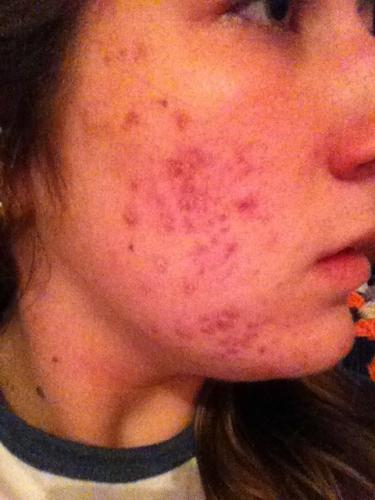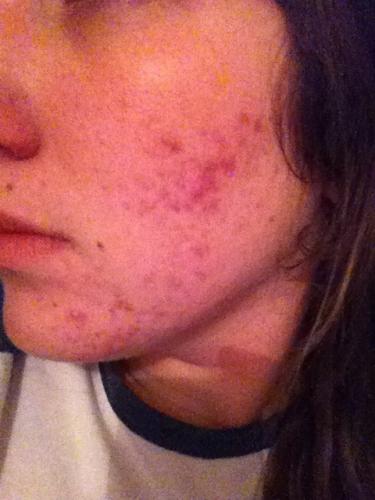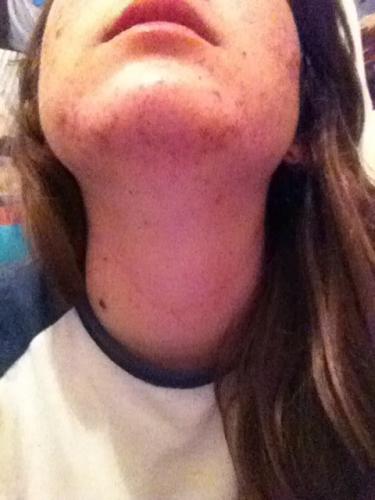 So there you have it. My "before" post. If you managed to read all that, I applaud you. I'll be writing again if I get moved up to a bigger dosage. Hopefully, all goes well.