Hi, I'm Amanda!! I'm 17 years old and about to start my senior year of high school. I've been struggling with acne since 6th grade, but it wasn't nearly as bad then. I've tried Doxycycline (Doryx) and I've gone on and off of Augmentin (Amoxicillin) and recently took Prednisone for a month. Prednisone helped clear me up some but obviously I couldn't stay on it for long term because it's a steroid. Right now I'm on Augmentin and in a month I'm going to start Accutane. Augmentin seems to work well for my skin but my derm won't let me stay on it for the long term because people often become allergic to it? I think he said once that it possibly causes cancer too but I could be wrong. Anyway, I'm going to post some pictures from about two or three weeks ago, while I was taking Prednisone. I was slowly starting to clear up a bit at this point. Right now topically I'm using Ziana (Clindamycin/tretinoin) at night and Aczone (Dapsone) in the morning. In the past I've tried Retin A (Tretinoin) and Epiduo (Adapalene/benzoyl peroxide). I have nodular acne, especially under my jaw. I also have a bad habit of picking at my face! I'm trying to stop!!
I had just washed this face in these pictures. Also I'm wearing my pajama shirt
Sorry about the bad quality of the pics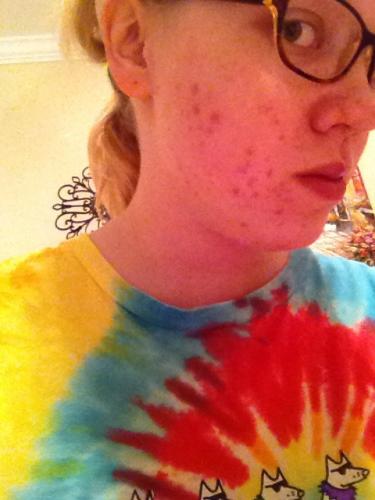 I'll post some more pictures tomorrow!