Short catch up since I am 3 1/2 weeks in already.....
I am almost at the 4 week mark of using Retin A. Since hitting 30, my skin has taken a toll for the worse. The last 3 years, I have had blotchy skin, developed these tiny (top of pen size) under the skin flesh colored bumps that have come in clusters and wont leave, blackhead war zone on my nose, and pimples that usually come on my chin area a few times a month. In my teenage years, I never had any skin issues. I could count on one hand how many pimples I have had until I hit 30. Now, it wasn't so bad that people would comment on my skin, but it has been harder for me to face people especially since before 30 people would tell me how my skin was flawless.
I have been using mineral make up for years. I wash my face with bp wash. Use sunscreen and ROC Deep Wrinkle Night Cream because it had retinol in it but it didn't seem to be helping my face much. I went and got the Neutrogena Microdermabrasion kit and I broke out even more. I had an upcoming doctors appointment so I figured I would ask for some retin a after doing some research on it. He said sure and gave me a prescription for the tretinoin 0.025 cream. I wanted that on my face that night, but of course the pharmacy was out and I had to wait a few days.
Finally, I started the cream. So, I did a pea size amount the first night. No burning or redness and I figured my face had already been getting a weak retinol from the Roc so I shouldn't have a bad reaction. In that weak, my chin exploded into tons of red pimples. Between my eyes, I had developed these weird under the skin like pimples with no head. And my forehead has gotten a few red smaller than the chin size pimples. The last 3 weeks have been horrible. I wasn't shedding like I have read, I did get a little flakey around the chin but nothing too horrible. It was the pimples that have set me into a panic. Week 2 I wanted to quit. Week 3.... I wont lie, I am still contemplating to go on. I think it is a tad better than it was in week 3 but everytime one bump seems to go down, another or two emerge. Week 2, I even had this crazy huge one pop up right in between my eyes and once it finally went down, another big one popped up next to it. I feel like the chin is the worse and it just doesn't want to get better. Once the bump goes down, I am left with a brown spot. Granted, brown spots can be covered with make up but bumps just aren't seeming to hide away no matter how much I try.
I want to stick it out at least for 3 months. So I am hopefully I am over the rough patch and will start seeing some improvement. I did change my face routine since starting retin a. I wash at night with Cetaphil gentle face wash but I don't think it really gets the make up or dry skin flakes off so after washing, I take a washcloth and gently scrub my face, then wait 30 minutes to an hour and apply the retin a (I stopped using a pea size and went further down to half a pea size now). In the morning, I wash with Cetaphil gentle face wash, apply BP to my nose (because I am still very oily but the blackheads are gone but you can still see my pores and the oil), apply Neutrogena moisturizer for sensitive skin and then apply Cetaphil 50 sunblock.
I am still oily around my nose. After applying make up, my face just gets very shiny now. I can't seem to keep the shine down. I think it could be the sunblock. My chin is dry. Have lots of brown spots and pimples that still need to get all the way through and still have weird under the skin bumps that aren't seeming to budge. Adding pictures but my phone camera is horrible and can't ever decide on the light so it is hard to see the bumps I am talking about if you can see them at all. Hoping that sticking with the retin a will be beneficial in the long run because my face is worse than it was before starting the retin a.
This picture is from a few days ago and you can see I have lots of spots.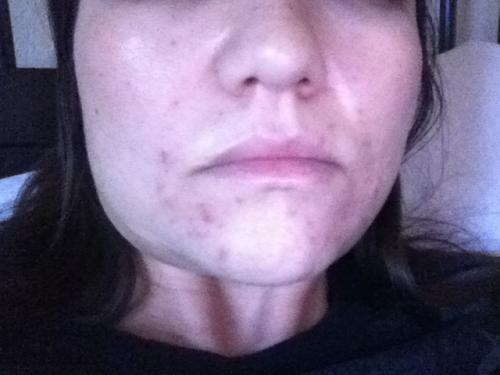 This is from yesterday. More pimples working up to the surface. But when I add make up it seems to settle the redness and brown spots but the bumps are making me self conscious.