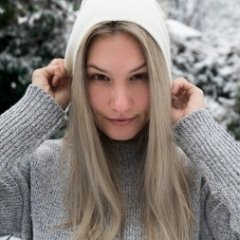 I truly believe I finally know what gives me acne. I've spent years and years researching and learning, and now I feel I have the toosl I need to overcome this monster. It's so hard though, probably the hardest cure I could discover because it means giving up so much food that I love. and I'm such a big food lover!!
I become addicted to sugar. It's crazy. If I have a little, I just can't stop! And for weeks I try to wean myself off because it just becomes a landslide.
For example, I was doing well for like 3 or 4 weeks, then one day, on a weekend vacation, I decided to have one piece of white bread at the restaurant we were eating at. One piece lead to four pieces (because, let's face it, I LOVE bread). After that, I started eating little bits of sugar every day. And for the past 3 weeks now, I've been completely off my diet because that little piece of simple carb put me back on my cravings. It's so hard!! Esepcially when my friends tease and make fun of me for my diet, but they'll never understand, those perfect complexioned people with their diet I only wish I could have (entirely junk food).
But it helps knowing that this isn't JUST for acne. It's for life. It's for fighting disease and cancer and living in a body that is beautiful and healthy and energetic and free of harmful things. This is a huge deal. This is way bigger than acne. That helps.
So, today, my face is horrendous. Spots everywhere, redness up, blotchiness up, my skin is super dry from trying to put products on my face to help. yeah, it's bad. But, I know why it's bad. And I can fix this, for real.
Today, I had a few low glycemic, homemade muffins for breakfast. Good for me! Then I decided to eat a completely high glycemic cookie people from my office gave me. I should have never brought those home!
So, today, I'm really going to try to fight my cravings. The good news is if I can make it one week, I'll be good. If I can resist all the cravings for 7 days, those cravings completely go away. That doesn't mean I don't like sweets or carbs, but I don't absolutely feel I have to have them.
This is my week. The week I'm strong. The week I put my health and my face above the illusions of my wants.
Just so anyone who reads this knows, I'm also supplementing my diet with two key things: Cod liver oil and a green vegetable powder drink mix. The cod liver oil is from Green Pasture and is the highest grade you can buy. Expensive, yes, worth it? I think so. I've only been taking it about 5 days now. The vegetable drink mix is from Amazing Grass and is a blend of several different greens that are crazy good for you. I have a smoothie for lunch every day (at least every work day) and add a small scoop of this in. Adds to the nutritional value without any change in taste. Delish and extremely good for me.
I think these two supplements will help immensely ALONG SIDE my diet. I keep hoping supplements will be an easy fix. I keep hoping, but an easy fix is not in my future. I'm going to have to suffer through this, but once I succeed (and I will btw), it will be 1000X worth it.