Entry posted by Sems ·
720 views
Its been about 2 weeks since starting spiro. I am taking 50mg (25mgs twice a day). So far I haven't had any initial breakout or anything. I think its working, but I definitely need to wait it out longer. Haven't been bothered by any side effects (except maybe my boobs got a little bigger). The one thing I am disappointed in is that it hasn't really worked to shrink this one monster cyst on my left cheek that I have had for over 2 months now....Maybe I just need to give it more time, but I have a derm appointment on Aug 6th so if its still huge by then, I'm gonna get the cyst either shot with cortisone or lanced.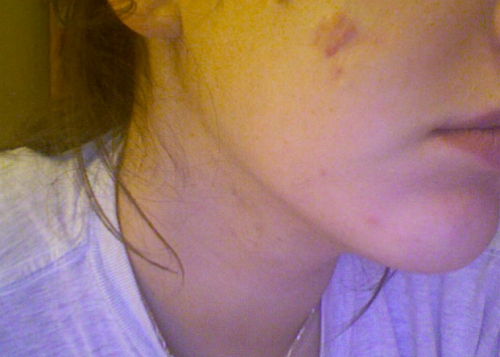 it looks a little better than my original picture of it, but still bad. it has like 4 heads, but underneath is just one big bump. I have been putting castor oil on it every night and i think it has helped a little, but not as much as I would like. I got it shot with cortisone already about a month ago but it only shrunk a little.
Should I get another shot, or get it lanced?