Introduction
Everyone always tells me I'm a pretty girl. So why am I the only one who doesn't think so?
Being 17 years old is supposed to be one of the best times of your life. You're one year away from being 18 and going to college. But how can you have any fun if your skin doesn't want you to?
I started getting acne when I was 13. It was "mild", as they call it. That's when I kind of realized I hadn't been washing my face all these years. So I started. I went straight for the high-end brands. Clinique became my holy grail, and my skin started to become more oily. Neutrogena helped too, but it wasn't permanent. None of it was. I spent $90 on a Clarisonic Mia. I tried every home remedy you can think of. Aspirin masks, clay masks, toothpaste, tea tree oil; I even went so far as vinegar and cornstarch. My face was red for about an hour. I was really desperate. My best friend had beautiful clear skin, and I would always feel embarrassed when she'd bring up how she got this itty-bitty pimple the other day. I tried to wait it out, but I couldn't anymore.
This was my skin in January of 2013.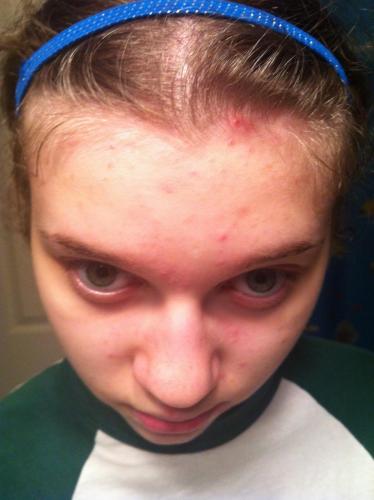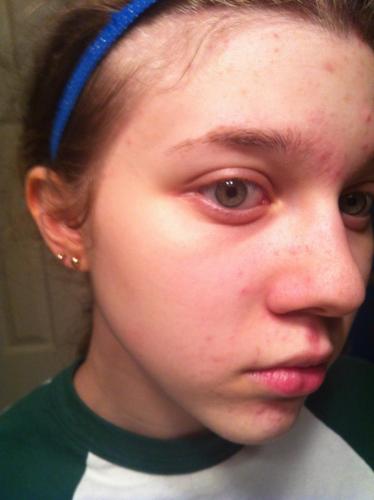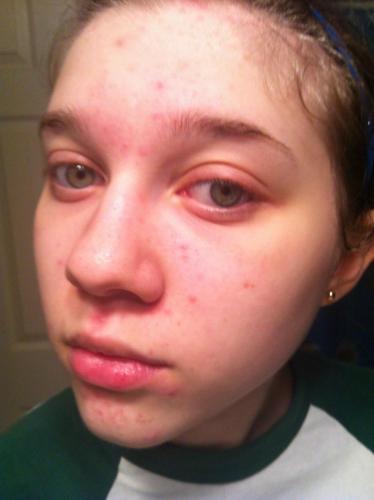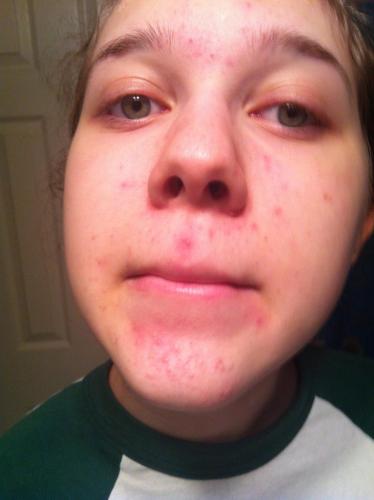 I stopped trying so hard and kept to Cetaphil and a clay mask every week. 5 months later, I found oil cleansing.
Beginning The Regimen
On June 22, 2013, I started oil cleansing. I went to Walmart and purchased everything I needed. The castor oil was $2.64. I decided to go with sunflower oil, as I had seen it recommended on multiple sites. Many go for EVOO - why didn't I? I had found mixed reviews on some saying it was comedogenic (pore-clogging), and others saying it wasn't. I had also learned sunflower oil was obviously a lot harder to find, but more deep cleansing. I was lucky to find some at my Walmart, though unfortunately it came in a giant 33.8 ounce bottle - and it was refined. It was only $3.78, however. The minute I got home I pulled some paper Dixie cups out and started to measure the oil. For oily skin, it was 1/3 castor oil and 2/3 sunflower oil. Using 3 cups, I poured about the same amount in each, referring to the container I was storing it in to try and get it filled properly. I was happy with the end result, and surprised the oils combined perfectly. I thought they would separate. After this, I got right to work. Using about a quarter-size amount, and started massaging my face in the same way I did when I used my Clarisonic. 10 seconds on each cheek, 20 seconds on the forehead, and 20 seconds on the T-Zone. Then I always know I've done it for a minute. After that, I grabbed a washcloth and got it soaked in the hottest water my tap would go. I tossed it on my face and let it sit until it cooled. Did that one more time and gently rubbed all the oil off my face. My face felt moisturized, but clean at the same time. After I was finished, I washed out my washcloth, threw on some chapstick, and went to bed. It was really that easy.
The Results
It's been 13 days since I started oil cleansing. I kept it up every night, even doing it on my shoulders where I also got a few pimples. My back cleared up so quickly it was scary. My face, however, is a different story. At first I didn't break out at all. Didn't get more oily, either. Just recently I started to see a few more pimples than usual. But they are small and just kind of like red marks. I don't know whether they're from the oil cleansing or from that carrot cake I've been eating.. since they're clustered near my eyebrows on my forehead. (It's probably the carrot cake.) I got one cyst on my chin, that I easily took care of by treating it with my 10% BP cream every night. It was gone in a few days. The only thing I can complain about with this method is exfoliating. Every Wednesday I'll scrub my face with St. Ives Apricot Scrub. I always see better results the more I remember to exfoliate. So, here it is: the current result. These photos were taken today, July 7th, 2013. (Please excuse the fact of how horrible I look with my hair up and it pulled back. Sorry
)
And that's it. I love this regimen. I'll continue to do it forever. I'll try and update again in a few weeks. So far, I'm extremely happy! Give this method a try, see how it works for you. If you have any questions or want more pictures, feel free to comment down below.
Thanks for reading, good luck!