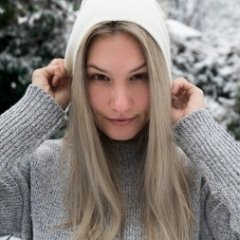 Whaat?! It's been a month since starting my new regimen? That's amazing ha. So, for a quick update, skin is looking great! I'm clear today!
For a deeper look, read along...
I have been completely milk, cheese, yogurt (any direct dairy) free for 4 weeks. Ok, I've had a few slip ups and almost every time, the very next day I have a new pimple or cyst. Same goes for when I completely overdosed on junk food one day.
I have been eating very small amounts of processed foods that contain dairy such as hot chocolate powder or dark chocolate that contains milk fat. Stuff like that. But not direct, full powered dairy.
I've upped my intake of fruits and veggies and have gotten stronger at saying no to sweets (my weakness).
Today, my skin is clear and redness and unevenness has been reduced greatly. I even had a few sips of milk yesturday while eating some chocolate cake. I was nervous about that, but I'm doing ok so far

I'll keep up this diet and see if my skin remains clear. Because I've had this before, my skin is perfect for a day or two and then another breakout takes over. So, we'll see.
I've also officially quit Trinessa birth control as I think it may be contributing to other unwanted side effects. I'm hoping getting off that will sort out some hormonal problems. However, that BC was what kept me clear in the past, but since starting it up several months ago a second time, it hasn't done terribly much for my skin. So I'm hoping the diet will be enough to keep m skin nice and I won't break out in cysts because I'm off the BC.
VACATION THIS WEEK! I leave Friday for the Bahamas and I was desperately wanting my skin clear by then. I'm gonna be strict on my diet to ensure I have the best skin I can possibly have as I don't plan on wearing makeup at all.
I've also been using a honey and cinnamon mask, leaving it on for 30 minutes or so and scrubbing lightly while washing it off. That does great things for redness. On pimples, I'll spot treat using that mix and put a bandaid over the area so it doesn't rub off on my pillow. Works great