so this is my first month on ... dun dun dun ACCUTANE. the big acne bully.
i was "that girl" in high school that never got a single blemish. im talking, rub butter on my face if you want.
then my sophomore year of college something happened... maybe stress? or hormones? i was a late bloomer; not really sure what it was but i started to get those deep painful zits on my cheeks. and since i had NO idea what the freak was happening i was horrible to my skin. . im talking HARSH. multiple washings a day, drying it out, picking etc... what a bust! i wish i had zits in HS to teach me a lesson.
then i hit up the good old internet and learned to BE GENTLE (though i still have a picking habit) so i went about my life from age 20-22/23 using soft, natural based cleansers and moisturizers with the occasional winter hiatus that sent me into a benzol peroxide, salyic acid tailspin. year after year i battled some sort of winter breakout.
the problem was my dark skin (i have native american background) and ANY zit scars my poor skin- hyperpigmintation to boot! so i started doing brightening/lightning and chemical peels.
when i got engaged in october of 2012 i was so PUMPED and my acne was mostly at bay. as my wedding approached more and more evil little zits popped up (especially in that hormonal - you just pumped me full of birth control- around my chin area). it was devastating! any who- i decided that before i started poppin' out some kidlets i should just TRY accutane (i am on 40 mg twice a day, i am 5'5 120 and on sprintec birth control). why the heck not, my doctor was completely confident in its abilities and success
so 17 days ago i started. my husband had done accutane in HS so he was so helpful. i moisturized like a madman! curel ultra moisture hand cream, vaseline on my hands at night, micoprine up my nose, aquaphor on my lips and everywhere else and guess what besides needing some extra chapstick my skin feels amazing!
i even just spent a weekend in SUNNY st george with no sun or chlorine irritation. boom. but my skin is drying up! and isnt that a blessing, i purged 3-4 pimples those first two days which was great because usually it takes WEEKS to get my zits to surface. there are bad things thus far...
#1 being my blackheads around the bridge of my nose and down my cheeks a little are purging. at first my pores looked HUGE (did this happen to any of you?) and now they are all dark. (which i never thought i really had blackheads so that is way new to me) but I hear that they all just sort of ... fall out? did this happen to any one else out there? i hope it goes away soon!
#2 not sure if this is bad or good but instead of popping out white gunk like my big zits usually do, they are just bleeding and pushing out that clear stuff. which makes me feel like they arent cleared out but i think the accutane is just clearing up the stuff inside!
so far those are the only things ive noticed...
cant wait for the end of this junk!!
i also want to post some things that have helped me "stay cute" on accutane

1. dont wash your hair, why would you! it is glorious to have no oil!
2. self tanner- million dollar spray on or banana boat summer color in deep dark color
3. revlon color stay foundation mixed with laura mercier tinted moisturizer
4. aquaphor, vaseline... etc.. stay moist!
5. clarisonic (exfoliate gently!)
6. REMEMBER its on 6 months of heck to reach the ultimate blessing CLEAR SKIN.
good luck yall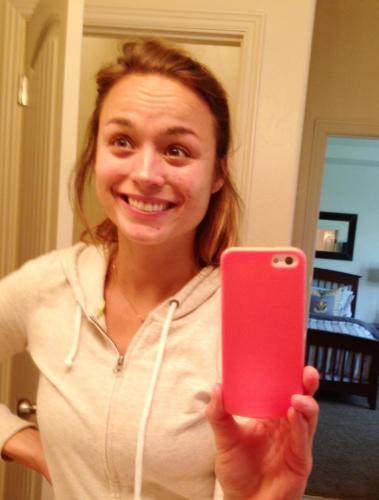 after 17 days.