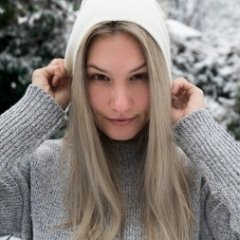 I am so weak lol. I had dairy over the weekend. I had a half cup of ice cream on friday. No change. I had chicken parmesan on Saturday. Small breakout on my chin (two small pimples, no cysts). Sunday...whew...I was bad. I had pizza and a milkshake not to mention a few cookies : /. This morning: Small breakout on my left cheek and definite increase in redness/irritation. In a way, I'm glad to have eaten dairy as it just convinced me more that it has a direct and immediate affect on my acne. So I'm back to no dairy this week and will try to be stronger next weekend haha. My husband's family is alllwwaaays making food, buying us food, eating out etc. So it's hard to not eat what they do (we usually spend the day with his family on Sundays).
I'm not happy about the xtra ruddiness to my complexion but I am glad to see that my thoughts are going in the right direction. No dairy.
This morning I had my signature smoothie (It's actually Lauren Conrad's "7 Days to Skinny Jeans" smoothie with a few tweaks).
I'm about to indulge in my yummy spinach salad with clementines, blueberries and an apple.
Dinner tonight will be dairy free for myself. It's easy for me to say no to bad foods on weekdays when I'm cooking, but these dang weekends get me every time! Why must I love food so much? lol
I'm also kind of happy that Trinessa isn't keeping me clear anymore. For a short backstory, I took it for 3 months and it cleared me almost perfectly. Then, I went off it for a month (missed a few days and just kinda forgot all about it). At the end of that month, I broke out in cysts which I hadn't gotten since starting the BC. Well I immediately went back on the same BC and it has been over 3 months and I'm still breaking out. Slightly annoying but at the same time I DONT want to be dependant on that especially because I seem to be experiencing other unwanted side-effects

.
So, I'm hoping to go off that next month. I'm a bit afraid but I think this diet thing, along with good exfoliation and apple cider vinegar tablets (good for detoxing and hormone balance), will do a lot for me. I'm excited about it. I'm afraid I'm wrong. But I'm excited.
Happy Monday ya'll!