Entry posted by bgh9080 ·
1497 views
Day 03 -
Woke up this morning with dry skin, but it's not awful yet. I slathered my lips with Carmex before going to bed, and traded in my usual 2.5% Benzyol Peroxide for just moisturizer and Jojoba oil. I woke up with dry patches in my skin, and my back has dried out. My legs feel itchy and flaky. I am usually a dry skinned person, and I feel I'm DEFINITELY going to be someone who is affected by the dryness side effects. So I purchased:
Aquaphor Lotion (Active Ingredient Petrolatum 41%)
Aquaphor Lip Balm
Dove Bodywash
Gold Bond Triple Relief For Extra Dry Skin (Active Ingredients Dimethicone 5% and Menthol 0.5%)
Here's a pic of my arsenal: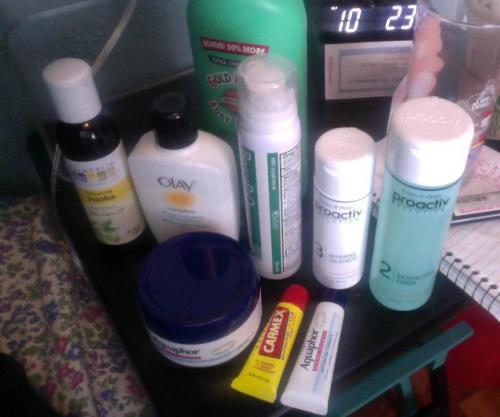 As far as cleansers and products go, I use:
Proactiv Cleanser with a (generic) clarisonic brush, 2.5% benzyol peroxide lotion, Proactiv toner
Olay Complete Moisturizer
Jojoba Oil (basically this is the stuff from the Regimen - tried different cleansers from the regimen, but Proactiv works best for me)
BACK - BenzePro 9.8% Benzyol Peroxide Foam
Here's what my skin looks like today: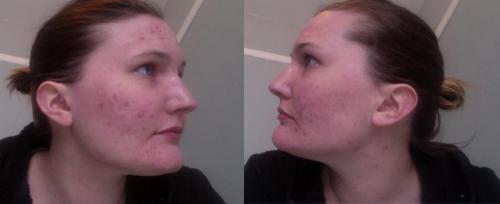 Honestly, this is not that bad for me. As you can see, I have blotchy redness and discolorations from past breakouts. But, my active breakouts today are only about 3-4 and are drying out. This is all coverable with makeup....the real issue is..the back. Here's a pic: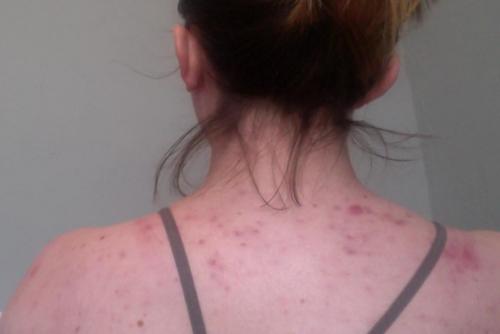 So, this is pretty bad for my back. There's that one big active red spot there that's quite painful.
So - this is what I look like on Day 03 of Accutane, here's hoping for an improvement soon!
I will continue to post to cover how Accutane works for me, the side effects I suffer and best solutions I find, and continue to share pics of *hopeful* progress.
- Bgh