Can't believe it's over, but I'm finished with Accutane! I took my last pill last Tuesday (March 19th). So I did a total of 6 months on Claravis. 40 mg for months 1 & 2, 60 mg months 3, 4, and 5. and 80 mg on month 6.
I knew at my last derm appt that my course was over, but I kind of hoped there might be a 7th month. (only because I was terrified to stop taking this drug)
When I first started Accutane, my derm told me that I wouldn't need to use any "maintenance creams" once my course was over because "my skin will be different". But when I went in last week I told him I was petrified of it coming back and he said he hopes that this is the end for me, but after all the money I've put into this, he wants to make sure we take the precautions and use some topicals. He gave me Aczone and Atralin. He actually filled a bag full of samples which I thought was awesome because I know last time I tried to get Aczone from the pharmacy it was like $300 or something. I really need to get better insurance.
So I went to my psychiatrist on Monday and told him my worries and he wants to keep me on Wellbutrin for the depression for another 4 months because he doesn't want to take me off til I'm "completely calm". I wanted to be done, but I'm glad I'm not because it really does help me.
On that note, I want to write my derm a thank you card. He is the 4th dermatologist I have been to since my early teens and he is the only one who has truly cared to stop this. He (and the creators of Accutane) saved my life. and I mean that. I wished I was dead every single day last summer. This drug gave me a life I have never known. I can't tell you how good it feels to not have acne on my mind every minute of the day like before. I do still do my "mirror check" every morning when I wake up, but I don't lay there in bed feeling anxious and dreading what I'll see. I'm not afraid of mirrors anymore throughout the day. I can actually sleep over my family's house without being embarrassed of being in the bathroom too long. I could keep going but I will get to the pictures!
ok some of these pics are really gross, I'm sorry.
Here are some pics from last summer. this first one is the result of my "water only method" and quitting the Regimen. it created an explosion of clogged pores all over my face, but covered my chin.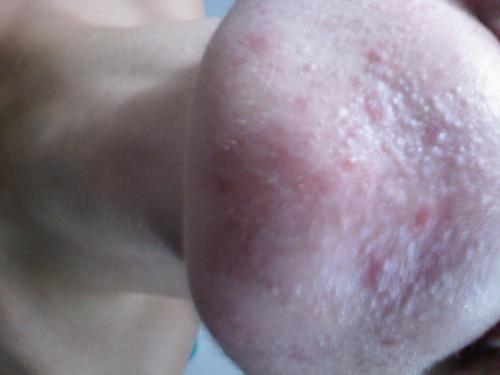 Ugh, and this is July.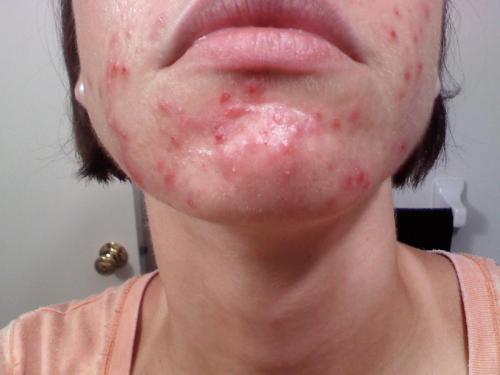 August...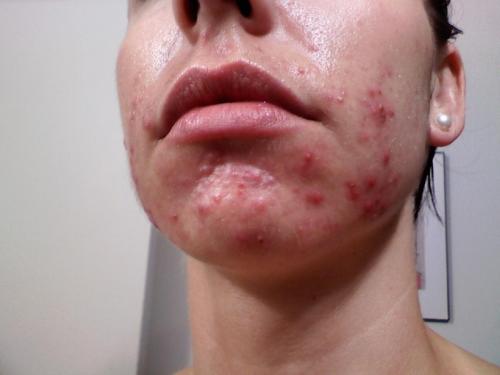 End of August/waiting the dreaded month for Accutane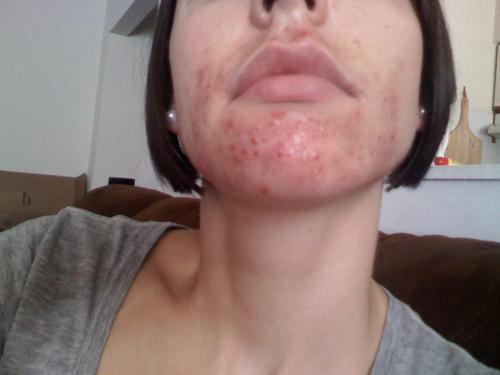 Week one of Accutane (day 7)
End of course!
It's painful looking at those, but I am so glad I took pics along the way to see how it worked. I have lots of pics from in between week one til now but I have posted them in other blogs. I hope I have helped some people along the way! Many of you have helped me and I wanted to give back. If anybody is thinking about going on Accutane, give it a try! I am so happy I did. The side effects were completely worth it. I wish I did this years ago! I am always here to help, so if you have any questions, just ask =)