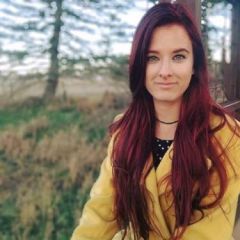 Last night I slept really well. I didn't wake up in the middle of the night feeling as if I needed to plaster some Aquaphor all over my face. The best part about today is that the bronze color is almost completely gone. I still have a few blotches here and there but hopefully it will all be gone by tomorrow. What's showing now is some very fresh, pink, baby soft skin. I love it!
Day 4: Today, is my last day using Aquaphor. Thank goodness. I can't stand putting that stuff on my face. Don't get me wrong, it helps A LOT with the dryness but it's just so thick and greasy feeling it kind of makes my face feel a little itchier than I'd like. I'm also not nearly as itchy today as I was yesterday. If any of you have ever had to wear a cast and there's an itch you can't reach, yeah, try that all over your face and partially down your neck. It's not fun. I'm allowed to go outside today as long as I wear sunblock which is great! Not being outside in 4 days is harder than it may seem. Too bad it's overcast and yucky today
Overall: I've made it through the worst. So, from now until my check up in 2 weeks I have to continue to drink a lot of water, resume a healthy diet, cut down on sodium intake, and continuing taking the prescribed antibiotics (I think those are only for 1 week). I'm also not allowed to resume MY personal regimen until they see me (i.e. no benzoyl peroxide, no RetinA) My skin will most likely peel into tomorrow, I can start wearing makeup on Friday (though I highly doubt I will) and they told me at the clinic that i'll be a pinkish tone for at least the the next couple months. That doesn't bother me at all because the clinic gave me a few samples of some tinted sunscreen which I absolutely love!! The last 3 days before the procedure I just started using that instead of putting on any makeup. It's good stuff. It's called Solar Protection Formula: SPF 58. It is rather pricey but still, it's your skin we're talking about. I'll post a picture of it as well in case any of you guys are interested in looking it up.