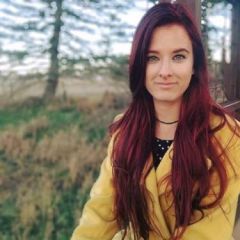 So sleeping last night was a pain in the butt. The cosmetologist instructed me to sleep slightly elevated. Thats extremely difficult for someone like me who is most comfortable sleeping on their stomach. I didn't think a sleeping aid would be necessary but for any of you who are planning on getting this done, buy some equate sleep aid from Wal-mart, you'll want it. I didn't toss and turn last night because I was in pain or anything, it was just hard to get comfortable. I'm suppose to keep my face moist 24/7 but it's kind of difficult when my pillow is absorbing everything and being in a position where it won't is just... omg, I didn't sleep well at all. Eventually I was just like "screw it" and slept the way I wanted to.
When I woke up this morning my pillow wad a disaster (probably why the clinic gave me 2 extra pillow cases haha) I had some yellowing on it here and there from my cream and I did notice some little blood spots on it as well. When I looked in the mirror I also noticed I had slightly more pin point blood spots then yesterday. My grandma came in my room to see me and told me I was A LOT darker then yesterday and that my face looks a little swollen. You guys can judge for yourselves. I attacted a photo for day II
The good news though, today I get to wash my face! YAY! 3:00pm can't come any sooner (they want you to wait 24 hours after the procedure to wash your face, that's why it's 3:00pm, my laser treatment ended at that time yesterday)
But, the rest of my day is pretty much stay indoors, alternate ice packs every few hours, and take the antibiotic. As for pain, I feel none. My face is just really tight, itchy, and dry. A price I think I can afford to pay for skin with NO acne scarring. Lets hope. Keep your fingers crossed for me guys.