This Thing On My Face Is Going To End Up Eating Me Alive! Help!

So I'm not sure how to explain so I'm just gonna for it.
About a year ago, maybe a longer...a pimple (or so I thought, I'm pretty sure its an alien) formed on the side of my nose. Unfortunately I have a really bad habit of not leaving my face/acne alone. I'm 21 and still cant help but pick at my face. But hey, I'm working on it. Anyway, I did pretty good at leaving it alone. But no matter what it kept growing. Fortunately it's been the same size for a long time now but its still VERY noticeable and I'm tired of it. Like I said, thought it was a pimple but it transformed into pretty much a crater. NOTHING has EVER came out of it except blood, lots of it. No puss, just blood and it scabs over thats about it. It's gross, I know...and I'm sorry. But if anyone has experienced this or knows what it is/could be. HELP. I'm begging. And I have gone to the doctor, working on getting to a dermatologist. All the doc told me was they werent sure b/c of how much it was scabbed over. 'thanks sooo much'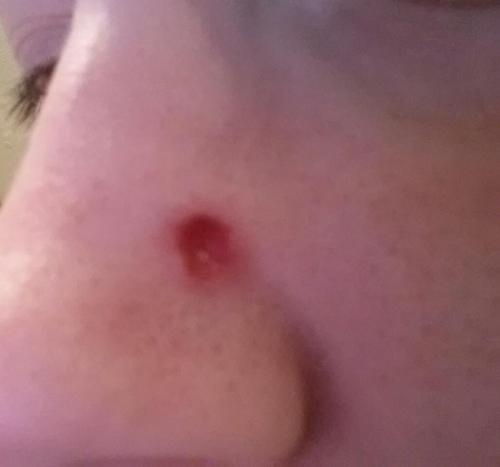 and here's a lovely picture of it.