Why The Hell Am I Sooo Blessed To Have Shit Skin?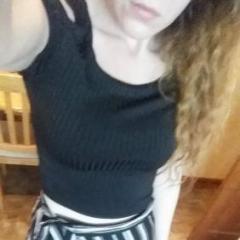 Just feeling like shit over my skin, it looks worse today...MUCH worse than last week or my previous pics. I have tiny spots all round my eye area and a few hard pustule/crusty type things on my chin with a myrad of tiny inflammed lumps around my chin too. The PIH on my foerhead also is much redder and around my cheeks for that matter.
I am on anti-depressants now and have only been on them for like a couple weeks...have'nt really noticed any effects as of yet though. I still feel down. My period is also now 4 and a half weeks late, this is the latest it has been since it has came back. I even took a pregnancy test TWICE even though I have not had sex for well over 2 years, TMI I know and I bet your thinking "what a freak!" Ha, well I get paranoid sometimes.
Is it maybe because Ive ate some chocolate this week seen as though its the holidays? Possibly. Or is it the milk that Ive been drinking since Ive been drinking a bit more cafiene than usual? Maybe. Or maybe it is the fact I have been eating peanut butter everyday after giving it up for like a month with no change to my skin? Oh yea. Fucking hell, Im tired of this. And it is days when I feel like this that I think yea Im gonna take Accutane sicne that is "the cure" - although everytime I think of it I remember how many people have had theirs come back after so many months and I want this gone. GONE. Im fed up of feeling un-confident and unsocial all the friggin time. Im never out, ever, because of how I feel about myself. It does sound sad but Im totally afraid of being "seen" and possibly being slagged (called names) or looked down on because of my skin.
Anyway, have a wonderful Christmas everyone.