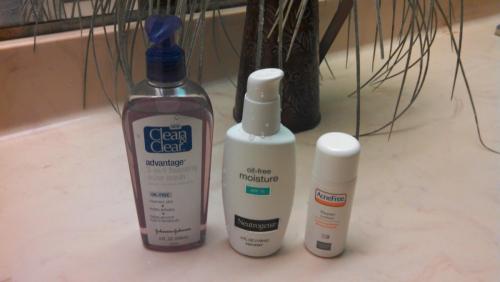 These 3 products are basically what keep my acne non-existent. B5 is a wonderful option for a lot of people (me included) but this second time around B5 alone was not enough to rid me of all my acne.
Once I started my own modified version of the Regimen ( using the products in the picture) I finally was able to enjoy smooth skin once again.
Step 1: I wash my face gently with cool water- and leave water on face
Step 2: I lather the cleanser in my already wet hands and wash face very gently for 20 seconds or less.
Step 3: I rinse off most of the cleanser and pat dry face with clean towel.
Step 4: Once face is dry (5mins) I apply a liberal amount (nickel size) of BP all over my face (except forehead I have no breakouts there)
Step 5: Once BP has dried (10mins) I apply and rub in enough moisturizer until my face no longer hurts when I smile.
I only do this once a day- and it's right before bed. I sleep on my back to keep anything from smearing off on my pillow.
These 5 steps on top of my B5 supplementation has given me Acne free skin.
I hope this helps someone out there!
Products Used:
Cleaner: Clean and Clear: Advantage 3-in-1 foaming acne wash
BP: Acne Free: Repair Lotion (3.7% BP)
Moisturizer: Neutrogena: Oil-Free Moisture SPF 15