My Skin Is Clearning Up Some! Pictures Included

I have had a lot of trial and error processes and regimens but I think I have found one that seems to be working for me!
One of the most important steps in this in my opinion would be my end of wearing foundation. I was wearing bare minerals/escentuals concealer and foundation in the shade of fairly light and bisque. I read up on these products after using them for years and discovered they contain bismith ( a ground up mineral/crystal like substance added to this mineral powder to make it have a slight shine) Not sure who wants a shiny face anyways but alright. I read that bismith under a microscope is coner shaped and that is why it makes your pores look so much smaller and skin more even because the pieces of it are litterally filling in the pore! Clogging my acne prone skin and resulting in cystic acne on my cheeks and jaw line (this has been said to happen in a lot of women) so I reccomend if you use these products to stop if your acne is bad! But some aren't allergic to this property and you are soo lucky cause this foundation has great coverage.
Why do they put bad chemicals in our makeup that causes the same problem we are trying to cover? The same reason that they polute and mutate the genes in our food and polute the air with chemicals (chem trails) so that they can make a problem and a solution to it to make money on face products, medications, more makeup, (same is true for other diseases but thats off the topic of acne)
So anyways getting to my regimen:
1. I cleans my face everyother day with about a dimes about of olive oil for about 3 minutes and rinse with pretty warm water until it feels a lot less oily and then rinse for thirty seconds with cold water.
2. I alow a mixture of honey and nutmeg to sit for 15-30 minutes on any acne ridden area. (the honey brings the gunk to the surface of the pimple making it so much easier to extract and quickens the healing process. The nutmeg is great for fighting infection (acne) and also exfoliates somewhat! you can add milk to the mix for a little more of an exfoliation but i reccomend RAW milk if you can since it has NOT been pasteruized (heated to such high heats it loses all it's nutrients and they have to add man made ones back into it) and there for makes raw milk that much more benificial to your skin!!
3. I spray a mix of 50/50 apple cidar vinegar on my face and back and let that dry. (and ACV mix has completely cleared my BACNE up i only have to put it on once every day or other day for my back.
4. My face acne is a lot more stubborn so after that dries I put fresh squeezed lemon juice on before bed. (it burns like hell for about 5 min but then it is fine and really has lightened my skin overall looks more glowy and feels softer.
5. I also take 30 mg of zinc with my breakfast and 30mg with my dinner. (really great for skin I have only been taking for about 2 weeks now but feel as if it is helping as well already) I also avoid artificial sugar as much as I can only eating fruit and honey as sugar sources, which is hard and I avoid grains(breads, and wheat gluten, any GMO crops)
I shop at sprouts natural market (: they have raw milk, grass fed beef, grass fed bacon, (: i feel so different since buying these foods.
I only have 2 active pimples right now! And let me tell you it is an awesome feeling, of course I still have some red marks but I can tell the lemon juice is fading them already !
(: try my regimen out if you haven't already, HERE ARE THE PICTURES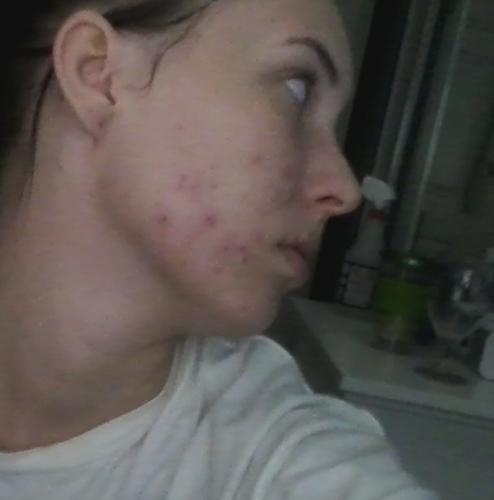 (this one is from a week and a half ago)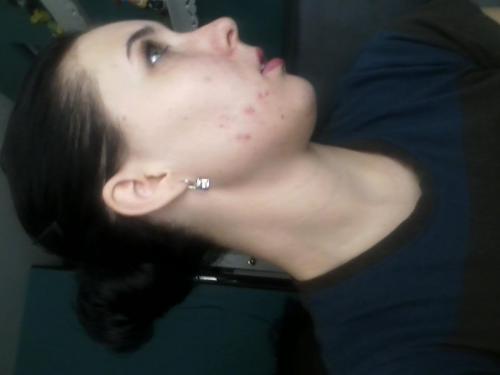 this is from today (: