Well wow... day 103... feels like only yesterday I was a nervous pervous about starting this crazy medicine. At this point, I'm pretty much done (mentally) and can't wait for my final month (which should be next month). At the start of this current month/end of last month I started to get REALLY tired. My doc said that's a "typical" side-effect so I stuck it out and I must say, it's gotten much better. At this point my biggest compliants are my dry lips, and the fact that I haven't been excercising for fear I will damage knee joints, etc. Other than that I must say I'm surprised at how "okay" I've been. My face, which is normally very dry, hasn't been any dryer than when I wasn't on accuatne! I am very diligent though when it comes to moisturizing. Every morning and night I wash with CeraVe and then use CeraVe Cream all over my face and neck. The sore knees have actually gotten better as well (I guess maybe my body is getting used to the meds?) But I'm still taking it really easy. As for my face, I haven't had a new breakout in quite some time, which is why my doc kept me of the same mg's for this month as I was last (which is 30mg 2x per day). As of now I really just have red marks from where the old ones were as well as what appears to be a bit of scarring. This is disappointing but my doctor promises they are not "real" scars and once I get moisture back in my face it will "plump" out and you won't see those marks (the red is supposed to fade as well). Guess we'll see.
If anyone is wondering, other than washing with CeraVe twice daily, I don't use anything else on my face (well, except make-up, which I remove with an oil cleanser... MAC has a fantastic one that wont dry out your skin). I take one pill in the morning with breakfast and a small glass of water, I drink a LOT of water throughout the day (at least 3-4 16oz bottles) and then take my other pill with dinner and another small glass of water. I don't know if any of these things matter but I must say I can't believe this expereince hasn't been terrible. I was expecting the worst, and while I can't wait for it to be over (there is a LARGE margarita with my name on it) I'm really happy I did it. I was SO miserable with my face before, I didn't even want to leave my house some days and I was SO self conscious... now I feel great about myself. Heres some pics (sans make-up) I took this morning before work!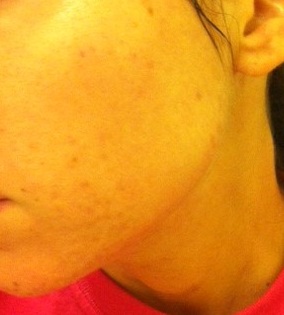 If you look at my first entry, then this one, it's certainly made a difference. And the interesting part is the first pic I took wasn't even me at my worst. It was MUCH worse than that but unfortunately I didnt take any pics.