Day V - Post 25% Tca Peel - June 13, 2012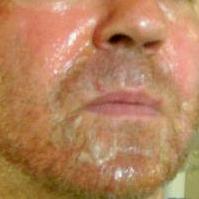 Today marks Day V after my 25% TCA Peel.
My forehead, cheeks, temples, and chin all peeled off with sheets of dead skin.
I have some peeling still occuring along my jawline, nose, and temples.
One lesson learned: next time that I do this, I will use a cotton ball with alcohol to remove any excess oil. I think that this would have made the peel even more effective. I did this last year, but forgot this year.
Overall, I am very pleased with the results. I went out last night for the first time in four days and enjoyed getting out of the house!
I look like a normal human being again!
My goal with these peels is to maximize the production of collagen within my skin and to minimize the appearance of any acne scars which remain.