Day 4 - Post 25% Tca Peel - 5:05 P.m.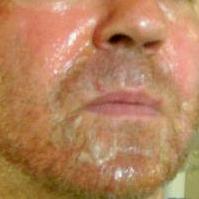 Ninety-five percent of my face has now peeled.
Both my left and right cheek came off in sheets.
My forehead peeled completely later this afternoon along with my chin.
My nose has yet to peel, but I'm sure that it will do so eventually.
I have some brown skin along my jaw line and need to shave.
Yesterday, I looked like a weathered homeless person - leathery face and unshaven.
This evening, I look pretty much normal and will venture out of our home for the first time since Saturday; I've been sequestered in the house for too long!