Day 4 - Post 25% Tca Peel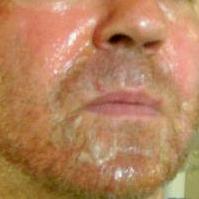 I woke up this morning and my face felt very, very tight as if I were wearing a tight mask.
I went into our bathroom and, Voila, the peeling had begun.
I look like a snake losing its skin or an onion with several layers coming off.
In my opinion, a 25% TCA peel is the most effective way to exfoliate the outer layers of dead skin.
TCA is also know for its collagen development properties, so I'm hoping that it will help my overall complexion as well.