Day 3 - Post 25% Tca Peel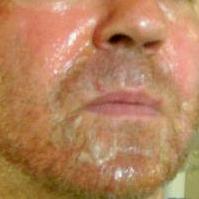 My face looks brown and shiny.
The skin on my face is getting progressively tighter and tighter.
I am hoping that it will peel like a snake which was my experience last year.
It's raining today and I have the week off from work to recover. I had my fourth round of subcision in December of 2011 and it was very successful. The results on my left cheek were AMAZING!!!!
Hopefully, the TCA will help with the collagen remodeling process.