25% Tca Peel - Experience No. 2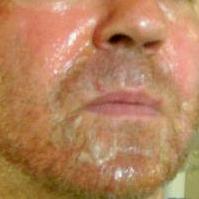 Day One - June 9, 2012
Applied a 25% TCA solution to my face after washing my face thoroughly and shaving.
This time, I wore goggles on my face as I almost got the acid in my right eye last year when the acid began to drip down my face.
I applied three layers and the burning began about 30 seconds or so after applying the solution.
Let a portable fan run on my face for about 10 minutes. Ouch!
Applied Aquaphor and went to bed.