Day 27. One Month. Clearer But Not Clear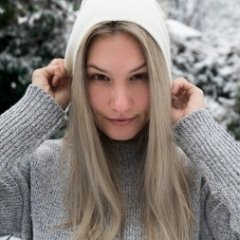 Tomorrow marks one month on Tazorac cream and minocycline twice daily. I'm not perfectly clear but I am no longer very concerned about my complexion (though i still am, I'm just not obsessing anymore). I have a couple small bumps around my mouth but I just started my period and I'm wondering if that's why (though I normally never notice any breakouts in association with my cycle). I'm thinking it's either that or the fact that I often have my blankets touching my chin area when I sleep. I also have an area on my left cheek area that is constantly congested and has been for months. A pimple takes forever to fully go away and right when it does, one or two more pop up right beside it. It'll be a surface area of about the size of my fingernail that is congested and takes months to get all the junk cleared out. That is very common in my kind of acne, that is, patches that are continuous pimple spots that will break out continuously for months before it finally clears.
I'm looking for things to control my oily skin as I know that is a big contributing factor into my breakouts. I'll be scheduling to get birth control soon and I believe that will help (I'm getting married too so it's not just for acne) and I'm going to try taking high doses of MSM as sulfur soap (type of MSM) keeps me matte longer than if I use a regular cleanser.
I'm a bit surprised the antibiotics aren't keeping me as clear as I expected. I'm still getting minor breakouts but I believe it has more to do with my pores getting clogged with all the sebum I produce. And I am producing excessive amounts on Tazorac.
I wouldn't be surprised if birth control sorts out my acne completely. Off-balanced hormones=oily skin. Oily skin=acne. Birth control=balancing hormones. Balanced hormones=balanced skin. Balanced skin=acne free. And since my oily skin and my acne sprung up as a packaged deal at about 17 or 18, I'm thinking that's what's causing it. Though I could be wrong, I've been wrong many times before.