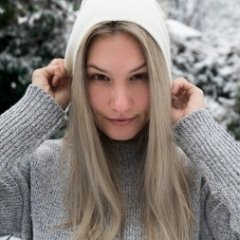 I had been clear for a good amount of days but I have about 3 small pimples pop up on my left cheek now and I think it may be because I ran out of makeup remover wipes and have just been washing once with my Juice Beauty milk cleanser. That cleanser claims to remove all makeup but nothing ever seems to really except my Ponds wipes. So I need to go out and get more of those. I also missed my tazorac last night because I was just too dang tired. I fell right to sleep, I didn't want to wait 30 minutes for my face to dry to put in on.
I haven't experienced ANY signs that the tazorac is working or not. No flakiness, no dryness, yes my skin is cleared up but I think that has to do with the antibiotics. The only thing I notice difference from Taz is my skin is incredibly, nastily oily now, but that's as common side effect from using Tazorac (as if my skin wasn't oily enough to start). I havn't had an initial breakout or any drying and I kind of assumed that was because I'm using such a gentle, organic cleanser.
I did use my Oxy cleanser tonight after using Juice Beauty just to get some of that benzoyle peroxide cleansing action for my small little breakout. Hopefully that'll help it. I'll also spot treat those spots with Benzaclin which will zap them.

I'm going to ask my derm for the Tazorac gel next time. I kind of want to get off antibiotics to see if this tazorac is actually doing anything but then I'm like...eh, no way! My skin is finally almost normal! lol
I do still suffer from extreme hyperpigmentation but that's easy to cover with makeup and it doesn't bother me neeeeaarrr as much as raised, red, nasty pimples do.
Oh, also, since I stopped using Benzaclin as a nightly, full facial treatment, my excessive hair shedding has also stopped. Interesting.
That's all for now! I'll try to update again. Almost one month down on Tazorac!!!