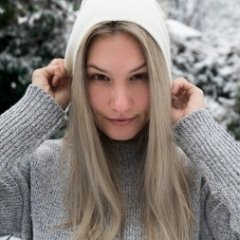 Well, as one pimple goes into the healing stage, another pops up. It seems as though I can never be 100% clear, but I'm not complaining because I'm loads better on this regime. And the pimples are so small they aren't even really noticeable, more like little bumps, but obviously I'd much rather go without!
This little booger is on my left side, just to the left of the bottom of my nose which has been a common hangout for pimples the past few months. Not sure why, but it's like I'll have patches on my face where pimples will grow and die, in that one area, for months! Then they finally go away, but another patch pops up. It's so weird! But I put some benzaclin on it to hopefully stomp its growth. That's the only new pimple, still have some clogged pores (don't care much about those) and one or two healing pimples. Other than that it's just extreme hyperpigmentation.
My skin texture is loads smoother. In fact, I can't remember the last time my face felt so smooth. Pores are seeming a bit smaller/clearer (I'm guessing that's the Tazorac). I'll be starting week 2 in just a few days, and that's when I hear most people get their initial breakout from Taz. I'm not terribly worried about that because I know the minocycline is keeping me pretty clear (I'm soooo thankful for it!). I've also had NO dryness or irritation from the Tazorac so far. Usually retinoids are known to cause bad flakiness but that has not been the case for me. It helps that I'm using an all natural and thus very moisturizing cleanser.
By the way, I used a new cleanser today from Juice Beauty; their cleansing milk which is made with several oils like grapeseed and safflower. I'm hoping it won't break me out! (please please pleeease!) As many of you know, using the official, homemade oil cleansing method caused a MASSIVE breakout (allergic reaction I believe) that is common for many who try the method. However, the oils made my skin tone so radiant and gave me such soft, supple, glowing, plump skin that I just had to keep trying organic cleansers. This one from Juice Beauty has awesome, all natural ingredients and I'm hoping this professional mix will be just what my skin needs.
I'm going on a road trip this weekend and am so happy not to have to worry about my skin (as much). Have I mentioned how thankful I am to be on this regime?