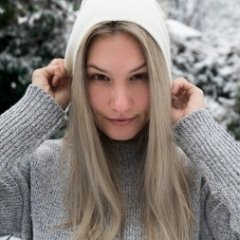 I had two small pimples pop up on my right cheek. They're still there but aren't really noticable to anyone but myself. I had one pimple on my chin but I popped it and it is healing easily. I popped another pimple on my left cheek and it seems to be healing over nicely. All around, this is the best/smoothest/clearest my skin has been in who knows how long. Thank you minocycline!
I used my Burts Bees deep pore scrub tonight. I like it because it is all natural, the second ingredient being grapeseed oil

Thankfully, using oils this way (in over the counter products instead of straight from the bottle) doesn't break me out. It exfoliates fairly nicely and gently and my skins feeling pretty smooth.
Hyperpigmentation seems to be a little lighter but that could just be my imagination as I'm not sure I've gotten a lot of exfoliation after just a week of Tazorac. I'm halfway through week 2 and havn't really broken out yet (knock on wood!), I really think the antibiotics will keep whatever initial breakout I have in check. I don't think it'll be too bad.
One thing I'm still battling with is my oily skin. Bleeehhh. Tonight, I used witch hazel as a toner. I never use a toner but figure, hey, I'll give it a shot. I've used witch hazel in the past and don't remember it doing much but I'll try again.