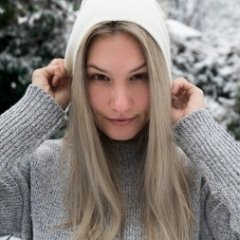 Well, tonight marks the end of day 6 on my new regimen which consists of:
Morning: Rinsing with water and taking minocycline
Evening: Remove makeup with Ponds towlettes, washing with organic cleansing milk, waiting 10-30 minutes to apply Tazorac, take a second minocycline.
The antibiotics have been keeping me pretty clear. I did have a couple small pimples pop up these past few days. One above my lip, one on my lip (both unlikely places for me to get pimples), one on left cheek and left upper cheekbone (places I've been battling with for months), and just today a small bump arose on my right cheek. My cheeks are where I always break out and it's often in the exact same spot I get reoccurring pimples. Well, no surprise I've got three small (hardly noticable) bumps that I'm spot treating with benzaclin before using Tazorac. The two pimples around my mouth are not big deals at all. I can feel an under the skin bump forming on my chin which wasn't there this morning. My forehead is completely clear but that is not uncommon. So, basically, I'm getting little pimples where I normally get them. I'm hoping it's the Tazorac which is bringing them back up to the surface. I'm about to start week 2 on Taz and isn't that when most people start their initial breakout? i'm hoping to minimize that with my antibiotics.
Last post I mentioned how I threw up and suspected the antibiotics. Well, I haven't felt sick since then and I have continued to take them twice a day, however i have been taking them with breakfast instead of right when I wake up.
Hyperpigmentation is baaaaad. I really notice it when I'm not completely broken out but it doesn't bother me as much as pimples because it's easy to cover. Still, I'm hoping the Tazorac will work in that area as well.
I'm excited to start Week 2 on Tazorac and Minocycline

I'll keep updating with my progress. Thanks to all who read and comment! I'm amazed at how many views my blog gets!
Happy Monday!