Lately I have been getting whiteheads and acne on the bridge of my nose and I didn't think much of it until yesterday when I saw a HUGE whitehead right under my left eyebrow. It looked so weird compared to the rest of my face because there are no pimples around my eyes except this one lone soldier. I washed my face with my Clearasil Wash, moisturized then put my glasses on. Then I paused. Took my glasses off, then put it back on again. The pimple was right where part of my glasses framed my face. Then it hit me - the pimples that I have been getting around my eyes and nose were from my glasses!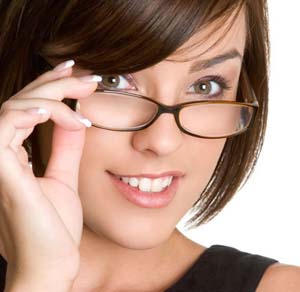 That's right my fellow acne sufferers! Glasses - more specifically, the frames! A very unsuspecting culprit, I might add. Glasses are necessary if you have impaired vision, like myself, and don't want to hassle with contacts. Different frames make a different statement and are actually becoming a fashion accessory nowadays, but they can be an instigator of acne when all the oils from our face are just sitting on them and are never cleaned. Therefore they build up, clog the pores and you get acne in places you never got it before.
So, besides cleaning the lenses so you can see better, clean your frames as well. Wash them in the morning before putting on your face. Regular soap and water is fine, but I personally use alcohol wipes (my sister picked up a bunch at the hospital she works at) or rubbing alcohol just to be sure the bacteria is gone. After all, what's the point of washing your face and then putting on something dirty after you cleaned it?
Till next time!