Entry posted by cc92 ·
810 views
Okay so it's been 8 days since I started Dan Kern's Regimen and I thought I was going to go crazy looking at my face in the mirror so I decided to make a blog instead.
Background:
I guess a little background on my skin would be beneficial.... I've had acne since I was 13 years old. I am now 19. My face completely exploded with acne when I got into the 7th grade, and I started packing on the foundation when I got into the 8th grade. I always popped my pimples and I couldn't stand walking around with whiteheads everywhere! Things didn't change much as I got into high school, but I started using a liquid foundation with salicylic acid in the 10th grade and my face slowly began to clear up. I probably had the "best" skin in eleventh grade. However, one day in the beginning of my senior year, three huge cystic pimples appeared on my left cheek and I tried popping them with a sterilized needle. That was the worst mistake I ever made in my entire life! The cystic pimples multiplied and kept multiplying until my entire left cheek was covered in them. I can't even begin to count the nights I spent crying because of my acne. It was strange because up until that point my cheeks had been absolutely clear and baby soft! I never worried about my cheeks and constantly wished that the rest of my face could look like them. I spent my entire senior year trying different products, holistic approaches, exercise, vegan diets, etc. etc. but to no avail. I also spent my entire senior year crying and hoping that my right cheek would not have the same fate as my left. Guess what? I entered university and it got even worse. I don't know what caused my face to grow progressively worse over the years! Of course, the people around me have perfect, pore-less skin and constantly tell me variations of the same old "comforting" remarks. I studied abroad last semester and had to live in a dorm room with 5 other girls (also with perfect pore-less skin yay.) That was horrendous. It's like the people around me look at my acne and instantly determine that my face looks like this due to some fault on my part, something I'm not doing enough of, something I'm doing too little of, a lack of self-maintenance. It's frustrating. Anyways, this is getting really long. Fast forward to today: I started dating someone and for SOME REASON my face is the worst it's ever been in my life. In fact, my right cheek is now worse than my left and I hate life right now.
Starting the Regimen:
Okay! So I started the Regimen when I began spring break because I had read the reviews of the initial redness and peeling. Luckily, I was able to get off work for both of my jobs and my boyfriend left for a trip with his family. I literally spent my entire spring break holed up in my room. The first two days I didn't notice anything at all, no redness or drying of any sort. The third and fourth day my face became extremely red, my red marks seemed to become very dark, and several new whiteheads appeared. Two under the surface zits also appeared on my cheeks. One on each side. Yippee. The fifth and sixth day, the redness went down but my face became exceedingly dry, to the point where I couldn't move my mouth or open my eyes very wide. It almost looks like there are scales on my cheeks. The dryness is worst on my cheeks. When I touch my face to cleanse or apply the BP/moisturizer, it feels like I'm touching a brillo pad.... However, the whiteheads that had appeared also went away. They dried up and just fell off! The seventh day, several new whiteheads appeared. Today, my chin looks very good (still some dark marks but no new pimples) and the pores on my nose look smaller. (I could just be fooling myself with blind hope.) I will only take pictures of my cheeks because those are my major problem areas. Also, I have been dying looking for photos of the process and I am sure others are doing the same! I have no qualms about sharing! They're pretty gross though, so be warned. Anyways will update frequently ! Toodles.
Side Note: I am strictly adhering to the Regimen (until I have to start wearing makeup when I go back to school Monday...)
I drink 3 cups of hot green tea a day.
I drink a cup of water with half a lemon squeezed into it twice a day.
I drink around 2 cups of just water a day.
I eat mainly fruits and vegetables along with the occasional poultry or fish dish.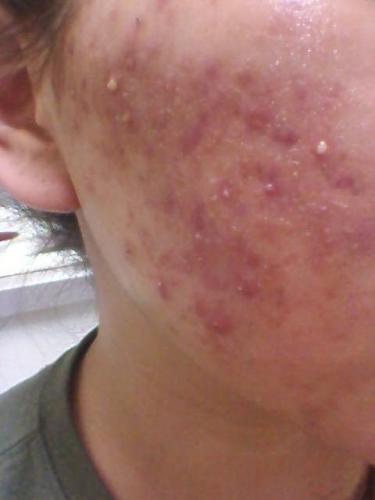 right side. you can see the whiteheads/pustules and the scaliness of skin. extremely painful -_-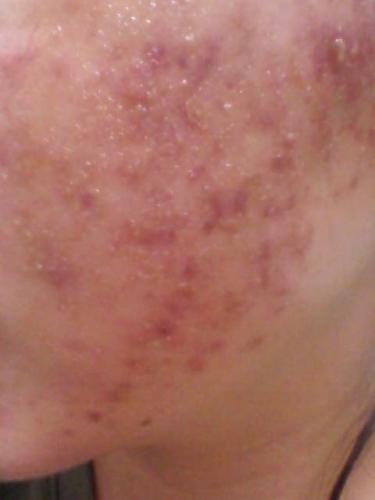 left side