Day #1 And Past Acne Information

Entry posted by chelsuh ·
967 views
Having to deal with moderate persistent acne for about 3 years, starting from freshman year in high school to now, my junior year, I've finally been prescribed from my dermatologist Accutane.
My journey with past medicines from my doctor consisted of creams, which never worked, and I was never fully committed to, and Monodox, which worked wonderfully, and I always took the pill every morning, for about a year until Christmas of 2011. When I started realizing that my acne was slowly getting worse and worse… I remember I had one horrible, horrible day where I had about 10 gruesome looking red pimple spots (So gruesome looking I had to take a picture of it)… thank god for makeup though! About a month of having to deal with this torture my dermatologist appointment finally came. It was a routine checkup and my mom just wanted to make sure it wasn't just a phase with my medicine. My dermatologist then decided it was time for Accutane. I was put on birth control for a month (actually 2 since they screwed up my prescription and had to wait a whole another month) I was put on Apri birth control and I have to say it really cleared up those big nasty pimples I was getting. I now only have black heads, hardly noticeable pimples, and minor scarring from acne which is easily hidden with makeup. But I'm still going on Accutane to make sure I won't have to live with this anymore.
I've heard the first few weeks of Accutane are the worst… And I'm hoping I won't scare off my new boyfriend with the horrible nosebleeds, cracked bleeding lips, and emotional storms I've read about. I'm going to try to keep this updated as much as possible (I can't promise anything though..) with pictures.
I'm very determined to get through these next 5 months and see my face clear once again!
Picture after Monodox stopped working and before I was put on Apri birth control: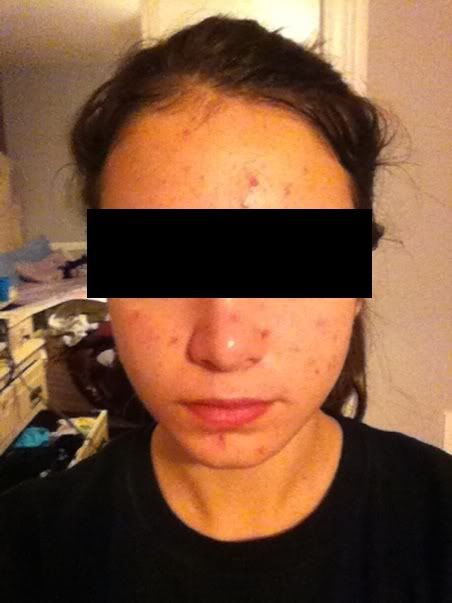 Picture after being on Apri birth control for 2 months also 1st day of Accutane: