Ok so today marks day 43 or week 6 however u wanna look at it. And things are ok. last week was my first week or so on 60mg and no significant side effects changed between doses. just feelin a little more dry with the lips no cracking really just chapped but managable with my vitamin e & spf chapstick ( dont know what id do with out it ) i've recent ly developed a little weird bumps on my lower arms and on the upper forearm some rash like patches not sure how to describe it but it itches here and there. also my hands developed some dryness and redness looking like rash aswell so just keeping up with moisturizing them since im always sanitizing or washing them for my clincials at school. ummm acne was really good and under control last week it was barable & i felt pretty decent for the first time in a while. I have not been wearing ANY makeup during my course of accutane - i just go to school & come home and here and there have to go out more in public such as the mall but im over it. I just want to get rid of the acne & so ive eliminated what i feel like is a cause or just makes it worse for myself. yes sometimes i feel ppl looking at me like i have leprocacy or something, but ive come to realization everyone has imperfections but it may not be on the surface for everyone to see. i feel good about my accutane course so far. my face has changed slightly, feeling less oily noticed less blackheads for sure. I did break out this past weekend really baddd and it really bothered me bc i thought it was going well, but it will do that to you be good then bad i jusst have to take it one step at a time. i broke out along the jaw line, chin and neck with under the skin cysts and a few one my cheeks. I will admit i did pop the white heads butthey healed fast but i was proud of myself for the leaving the others behind ! im getting there with this not touching the face and popping them.
here is a pic of me last week friday - not badd ehh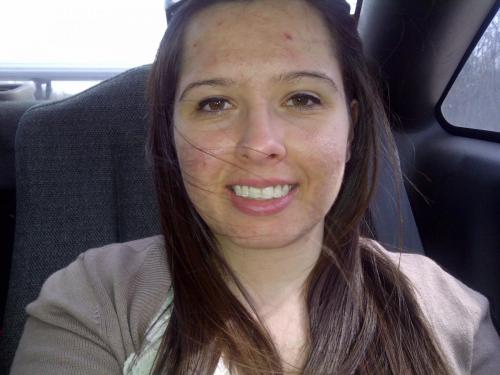 and here is just yesterday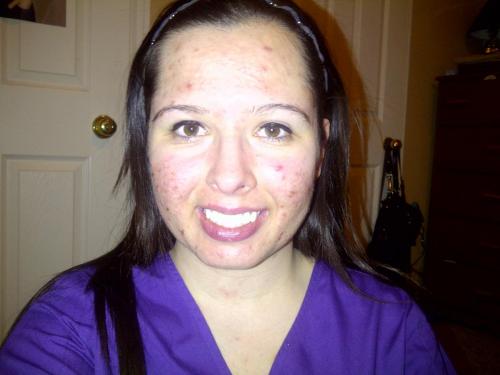 YUPP- that is all for now. i shall keep you all posted on my accutane journey when i find some time to write again or have something more significant to say!