Okay I Finally Received My Dan Products!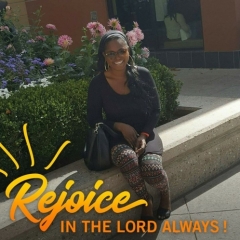 So, I tried my Dan products today, and I must say that I immediately loved the feel of everything.
I was so amazed by the size of the bp.
I've been using the regimen on and off for over a year now, and I must say that the amount of knowledge and clarity that I've received since I started using the regimen has been very rewarding for me, as well as for my skin.
When I first started using the regiman, I used store bought products that were recommended by Dan.
(which wasn't the easiest thing to find in stores at times, especially the BP)
But,once I religiously followed every single step,and dissected the do's & donts down to a science, I immediately seen a change in my skin, I was amazed at how much of a difference such small changes made such a huge impact.
I was doing so much wrong, but assumed those things to be right.
I washed with soap, scrubbed with my wash cloth, squeezed acne & w/b heads until something came out!
I Lived with my hand s in my face! I was doing more damage than my acne was doing, and having clarity on what i was doing wrong was so priceless to me at that time & I ran with it, and my skin was flawless!
Yet, I somehow dropped the ball along the way, once my skin was at a healthy place & that was the worst thing is that I ever could have done!
On my store bought product venture I've learned so much, I used clean and clear facial foaming products as a cleanser, neutrogena on the spot bp for treatment(hated it), and oil of olay complete as a moisturizer. And palmers fade cream for blemishes & dark spots.
The regimen itself is what really worked for me, the products just aided & kept my skin clean.
Learning how to break all those filthy habits, Is what kept me clear!
So, after setting my skin relapse back to unhealthy skin, I'm now back on the band wagon, and I will document this journey, I wish I would have the first time!
And,to save myself the drama of shopping at various stores to buy various products, I just ordered the Dan system.
Today is day 1 of using it and after my first cleaning my skin feels great!
it's also a relief to know is that all 3 of my products are totally safe products, and free of things that are useless to my skin.
Using the site is also a vital tool as well.
The product reviews are excellent, and Ive learned so much that have worked wonders for me!
Such as lemons, and witch hazel (perfect for me)
And three very best kept secret for Me was Water!
Drinking water is underrated!
I also tried tea tree oil, which was a no/ go for me& burned my skin.
So, the.site can greatly assist in the trials& errors of building a healthy relationship with your skin!!
Wish me the best!