So I am 41 days in and pretty miserable. Both sides of my lips are cracked in the corners so it hurts to smile or laugh. My skin isn't that dry to be of any problem as long as I have on moisturizer. The inside of my nose is a whole different story though. I have a sore back here and there. I had bad headaches in the beginning but they are less frequent now.
I am 115 lbs and on 40mg a day.
I haven't had an actual IB yet that I've noticed. I've maybe had a couple new pimples here and there but I am happy as long as I don't get anymore cysts.
I'm going to list products and whatnot I'm using for anyone interested in knowing.
Moisturizer: Cerave moisturizing CREAM (the regular lotion is not thick enough)
Sunscreen: Whatever I have. I'm more of a night person because of my job so I haven't really gone all out on sunscreen.
Shampoo/Condition: Paul Mitchell (I just use the conditioner most days because my hair is too frizzy)
Lips: Carmax, Burt's Bee's, and Aquaphor (mostly Aquaphor as my lips get worse)
Body lotion: Burt's Bee's Body Butter
Then I have some generic eye drops and I use my moisturizer for the inside of my noise (I know... Very slimy feeling).
Day 3 (A lot of the redness is from a LOT of picking)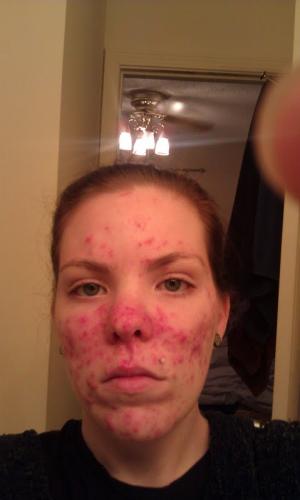 Day 30
The biggest reason why I look better than Day 3 is I just learned to start moisturizing. I never cared about that before. That helped with my picking habit really quick so a lot of scabs cleared up.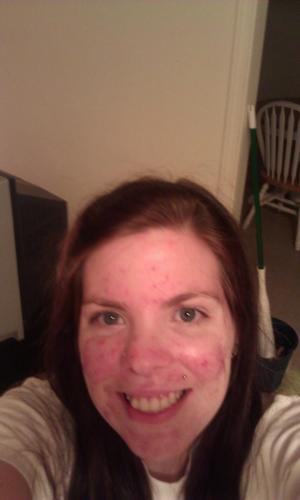 Day 41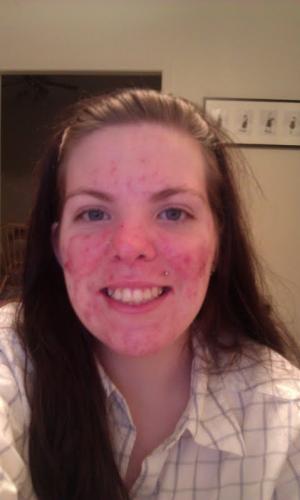 Here was me almost exactly a year ago. Makes me really upset that my skin exploded like this at 22 years old. The reason I am putting this here to make it more obvious the cysts you can't see in my pictures. How they deform my face in the cheek areas. I hate cysts. I would trade painful cysts for regular pimples any day.