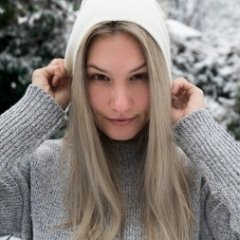 Well ladies and gents, here it is, the conclusion of this journey. I guess. The OCM just isn't working. And I hate to give up on it but it's just not working. Everytime I use it it immediately results in clogged pores. I would love to try to use it again after my acne clears but as for now, it just...isn't working. And I ditched the milk cleanser and it wasn't cleansing well.
I'm using Ponds deep cleanser/makeup remover which is AWESOME. Does not strip at all. Still trying to be gentle. Using that and then my sal. acid peel.
My mom is taking me to a new derm in about a month. I'll be going on an antibiotic routine. You know, monocycline was the only thing to clear me. And man, did it clear me. I had perfect skin once again but strayed from the routine. I never wanted to go back to antibiotics but I really can't go on like this. Nothing is working. If anything were showing ANY sign of helping, I'd stick to it. But nothing works, no hormone treatment, topical treatment, vitamins, acne pills, acne system, OTC or DIY, going makeup-less.. Nothing works. And I need clear skin. So I want to go back to antibiotics because I want this taken care of.
And I'll order some more sal. acid peel to get rid of all my scars and red marks. And by October, when I get married, my skin will be beautiful.
My mom had acne until she got pregnant, then it cleared up. But she still has oily skin. I'm thinking maybe mine is identical to hers and will clear up once my hormones change up. Until then, I'm willing to do what the doctor tells me. Because I can't do this myself. I've tried everything. And I can't do it myself. So, in a way, this is my way of giving up the fight.
Sorry, folks. But for me, OCM was wonderful and then horrible and has been bad ever since. My entire face looks severely scarred from the incident and my breakouts still havn't subsided. It's ugly. But you know, that peel should take care of the scarring and the antibiotics should take care of the breakouts. So, until I get to the derm, I'm stopping all that extra skin care. Hopefully, I'm so obsessed with skin care idk if I can stop treating for a month haha.