Accutane Day 28 & 2Nd Derm Appt
Hello to those reading,
its been a while since my last blog and only a few things have changed or happened since then.
1. last week, I had to take a car ride for an hour and it was quite sunny outside and well i tried to cover myself from the sun by keeping my hood over my face. the next day I had a little bit of redness on my hands and then became a little bumpy and dry. so I constantly kept applying hand cream to help. from that hour drive in the sun - with no sunscreen (because I forgot and its usually cold here still at this time of year) be aware while using accutane!! I went and bought sunscreen SPF 50 lol and have been applying it everyday lately since the weather has been great and im wearing short sleeves. But I also work in dental so constant washing and applying sanitizer probably didnt help the redness & dryness situation, so constant application of Aveeno hand cream really helped especially before bed time.
2. I stil feel the same dryness in my face and body as before, but more recently in the last week, my scalp is dry. And so I can go a few days not washing my hair because it does not look greasy what so ever. My nose is more dryer then the usual and my doctor said to use vaseline at night for it.
3. saw my dermatologist today for my monthly check up and she was pleased with how the first month went. i told her i take weekly photos for myself as a good reminder how far i've come. She told me not to feel discouraged if the second month there isnt much more of a change and it stays about the same, she said at about the 4th month you will see a much better change & better results. So gradual and take this day by day! she up'd my dosage from 40mg a day to 60mg. I am hoping that doesnt increase side effects and things go smoothly.
4. As ive metioned before I tend to pop my pimples ( which are more like cysts) or pick my scabs - I KNOW everyone reading this is screaming at there computers - horrible habbit ive been trying to ween away from. SOOOO i've been doing ok.A few things that may help: a)I've always kept my nails short b) I got my friends to slap my hand if they see me with my hand on my face sitting in class cause those are the most common times i do so since i can feel it. I can only have my hand in my sleeve touching my face that way if I have to rest on it. c) a stress relieving ball helps just to keep my hands occupied or away from my face. or while in public just having my hands folded together.
Attached is a picture after 28days using accutane. Not a drastic change from where I started but far less cysts, smaller in size and less redness just local in areas of a pimple or healing.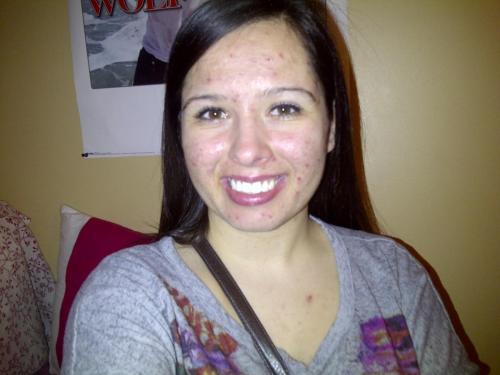 Well, that about covers it all for now. I will try to keep you all more posted now that I am on a higher dosage - keeping note of any difference or side effects, etc. Lets hope this month goes well !