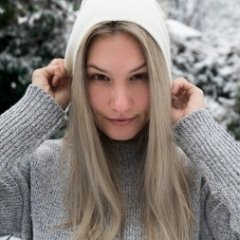 Monday starts the fourth week since I've been dealing with the disastrous breakout the OCM originally gave me. I was thinking of it yesturday and of how how wonderful my skin looked those first few weeks. That made me think, the OCM does work. It did work. But I screwed it up. Maybe that's why I have faith in it. Because..simply..it works. Or it will work once I use it correctly.
My emulsifier (polysorbate 80, a popular one for skin care) has come in and i'm so excited! Tonight I'll make my mix of sunflower oil, about 5% castor and plenty of emulsifier. Don't worry, I've got it down to exact measurements this time. I want to start out with only 5% castor to see how it does on my skin. If it doesn't irritate and yet doesn't do anything, I'll bump it up to 10. However, it's possible I cant use any castor oil on my skin in which case I'll just use sunflower oil with an emulsifier to ensure I can wash it all off. No more clogged pores please

Still taking zinc. I may be wrong but I seem a little less oily than usual. I think I've been taking zinc for about a week and a half so far. Two weeks maybe.
This is my last week of school before spring break and, while I don't have any serious plans for my break, I'd love for my skin to be clear for it as I'll be doing lots of lounging probably and who wants to lounge in makeup?
I've realized I hate makeup. I hate the way it makes me feel. Caked on, everyone knows I'm trying to hide behind it (it feels). When I take it off in the evening (or afternoon, as soon as I get home and know I'm not going back out), I feel like i'm being released from a prison. Seriously. But, this feeling only happens when I have to layer it on, when my acne is really bad, like now.
I bought Desitin (?) diaper rash cream with 40% zinc in it to try and help ease my rash/pimples. Hopefully it doesn't break me out more lol I put zinc on overnight last night (another brand) and that, along with the aloe from the previous night, has me all flaky which makes my skin look that much worse. But honestly, I think it's a little better. I can handle some flakes.