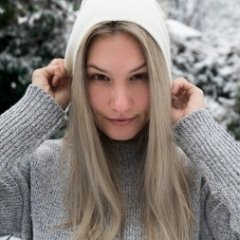 So my skin is still no better. If anything a little worse because on top of this I've developed a few small pimples. However, upon research, I've discovered that this is NOT a purging stage. At all. No, my skin is not purging and these aren't pimples on my face. I'm having an allergic reaction, like dermatitis. Tons of red, raised bumps all across my face (started on the chin and gradually spread), all where the oil has touched. They don't come to a head, they're just red and don't respond to any pimple treatments. Also, I've read that dermatitis only develops after a long period of time of contact with the allergent. So, it makes sense that I would develop this reaction only after a few months of oil cleansing.
I still have faith in the ocm, how, I don't know. I think the only reason I still have faith is because I can't give up on the only skin care regime I've ever actually had faith in. So, more so, I'm having faith in the faith? Anyways.
I've cut out ocm for the moment as I just want my rash to heal (it really is hideous and excruciatingly embarrassing). Right now I'm using a natural, gently milk cleanser (just bought yesterday) and I've been looking up products to heal rashes. I used a ton of aloe gel last night which didn't seem to do anything this morning. This morning I've applied hydrocortizone cream, but when I get back home from my weekend out I'll be purchasing some, believe it or not, diaper rash cream. 40% zinc oxide. Well, it is a rash cream after all, and zinc has helped immensely in calming and clearing my skin rapidly before. The thing about topical zinc and me, it seems to be a hit or miss. One time I'll use it and within two days it'll clear all redness and all acne. Then other times it doesn't do a single thing for me. Not sure how that works but I'm hoping this intense zinc cream will help calm inflammation and spots. This reaction happened 3 weeks ago and it still hasn't cleared.
When it does clear (and it will, within two weeks), I'll go back to the ocm, every other day or twice a week. By then, my emulsifier will have arrived in the mail and I'll use a combination of 60% sunflower oil (just got it, completely non-comodogenic/irritating as it doesn't fully absorb into the pores. Heard great things about this, how gentle it is. Allows skin to breath), 35% emulsifier and only 5% castor oil. I can go from there. That should not break me out as I should be handling all problems. Emulsifier will ensure all remaining oils get washed off leaving no residue, minimal amount of castor oil as it may have been what caused my allergic reaction as it has for so many others, and a totally safe carrier oil (sunflower). Also, no essential oils to start. Some can be harsh and irritating if used in too large of quantities.
Still taking zinc supplements and DIM. I'll definitely keep the zinc up for months and see what it does for me. As for DIM, users who experience any benefits from it usually see those benefits within a weeks time. Seriously, because it only helps if you have an estrogen metabolism problem. I'm starting to think I don't lol.
I had a breakdown about my skin other day and I went a day and a half cleansing with a bar of sulfur soap. I ended up with dried out skin. No flaking or any thing but skin was tight. But, I've recovered from that moment of depression and am plowing on with prayer and faith and more knowledge. Funny thing is, now that I have this massive allergic reaction on my face I could hardly care about the bit of acne that I currently have. Who cares about those little pimples when I have all those red bumps everywhere! Perspective, I guess. i'd kill to simply have my mild/moderate acne back. No worries. It's just a rash, just a reaction to too strong of product. It'll subside shortly. It'll be ok. It'll all be ok.