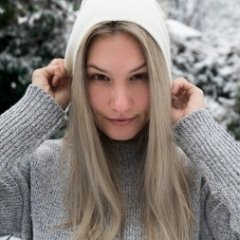 So, for the past couple two days or so, I've been using my Queen Helen Mint Julep clay mask after oil cleansing. This helps ensure I get all remaining oil off my face and also helps purge the pores even more. Pores are open, dirt and oil is loosened and brought to the surface; what better time to mask, right?
I've noticed that it has helped dry up my breakouts. Some small pimples have gone away and then other red bumps have come to a head rather quickly. I'm amazed at how easy I find it not to pop anymore. I pop a whitehead every once in a while. Sometimes you just know if a whitehead is going to explode or not, but for the most part, I've been walking around with whiteheads just there. On my face. I absolutely hate it but I refuse to spread the bacteria by picking and popping. Plus, I actually find that they dry out on their own rather quickly. The breakouts I've been getting during my lovely purging period have been superficial, small, however extremely numerous and consistent.
Using the mask after it seems is helping. My face doesn't seem so extremely bumpy in texture, although it is still very bumpy. Just not extremely bumpy.
On another note, my face is...there's no other way around it...sore. Yeah, my pimples hardly ever hurt but man, when I massage my face it nearly hurts. mostly around my eyebrows and I know that's just from the waxing but still..it's odd.
Also, I've noticed that my face has been rather itchy for a while now. Mostly near the end of the day when my face is covered in its own sebum, an oil slick, and my makeup has been on for hours, my pimples just itch. It's awful. I try not to touch my face or scratch but sometimes I have to gently.
Anyways, weekends almost over and, as I spend it with my fiance and his/my family, that is always the most humiliating time for me to have bad skin. I don't feel so self conscious at school because I'm only going to see those people for the next three months then I'm out of there

So I try to wear as little makeup as possible during the week to let my skin heal on its own. i'm keeping the faith. I figure that my skin should be seeing improvement by graduation (2 1/2 months) and should be clear by October. If I don't see those goals being met then I'm afraid I won't be able to continue with this method. It should, by all means, be able to reach these goals. 3-4 months of purging is enough time for skin to adjust.